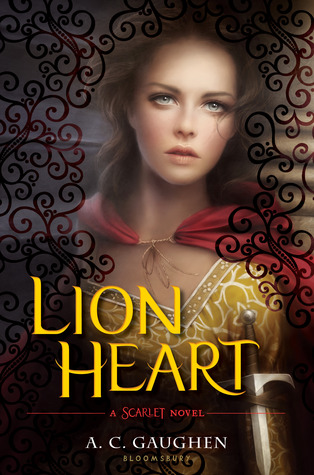 Scarlet has captured the hearts of readers as well as the heart of Robin Hood, and after ceaseless obstacles and countless threats, readers will finally find out the fate of the Lady Thief.
Imprisoned by Prince John for months, Scarlet finds herself a long way from Nottinghamshire. After a daring escape from the Prince's clutches, she learns that King Richard's life is in jeopardy, and Eleanor of Aquitaine demands a service Scarlet can't refuse: spy for her and help bring Richard home safe. But fate—and her heart—won't allow her to stay away from Nottinghamshire for long, and together, Scarlet and Rob must stop Prince John from going through with his dark plans for England. They can not rest until he's stopped, but will their love be enough to save them once and for all?
s
*I received a digital review copy for free from the publisher in exchange for an honest review. All opinions are my own.*
*This review is spoiler-free for the entire trilogy.*
If you haven't started this trilogy yet, then you're missing out. Or maybe you have started the trilogy but didn't like the first book? Maybe you loved the first two and are just excited for this one? Either way, you have to keep going because this book is the best in the trilogy, hands down.
There was a perfect balance of interesting elements in this book, from politics to romance to action–there's never a dull moment while reading (especially during the last half… holy shit).
Scarlet is still the badass heroine from the first two books. She already sounds pretty perfect, but I can honestly say that she grew and matured even more as a character. She has such a strong personality, and extremely passionate and loving. Scarlet's kind of woman who loves her man, her friends, and her country. I fully respect her for that.
Speaking of loving her man, Scarlet is one of those women who take the lead in a relationship, which I think is incredibly cute and awesome. The romance between her and Rob is just fantastic and ship-worthy as a whole. These two trust each other so wholeheartedly, and they bring each other up instead of push each other down. So many swoony moments between these two in this book, and my cheeks just hurt from smiling and my eyes hurt from crying. It's that kind of romance.
Like I said earlier, this story has a balanced plot as well, which will keep your eyes glued to the pages. There may not be a kick-butt action scene in every page, but even the political parts of this book will intrigue you. And in every page, you can see how there's not a single character who isn't involved. Every single cast member has a role to play, and I love them all to bits.
Basically, this book was fantastic. Please get it.
book edition: advance reader's edition
photos © Aimee (Deadly Darlings)
[drag photos to a new tab for a bigger view]
PURCHASE LION HEART:
Hardcover
…
About Aimee

Aimee loves being a little bookworm (okay–she doesn't like being
little
). She also loves chocolates and sweets but is freaked out by the thought of possibly getting diabetes.
Goodreads
 |
Twitter
 |
Instagram
| 
all of Aimee's posts →