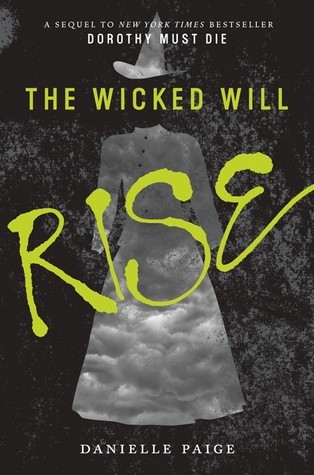 The Wicked Will Rise by Danielle Paige
Dorothy Must Die, #2
published on March 31st 2015 by HarperCollins
young adult | retellings | romance
find the book on
Goodreads
To make Oz a free land again, Amy Gumm was given a mission: remove the Tin Woodman's heart, steal the Scarecrow's brain, take the Lion's courage, and then Dorothy must die….
But Dorothy still lives. Now the Revolutionary Order of the Wicked has vanished, and mysterious Princess Ozma might be Amy's only ally. As Amy learns the truth about her mission, she realizes that she's only just scratched the surface of Oz's past—and that Kansas, the home she couldn't wait to leave behind, may also be in danger. In a place where the line between good and evil shifts with just a strong gust of wind, who can Amy trust—and who is really Wicked?
s-
Evil will always catch up with you. That's why you have to get to it first.
Murder, magic and unicorns… Throw in a sassy female lead and an à la Wonderland version of Oz, and you've got The Wicked Will Rise.
Remember when I said I really disliked the humor in Dorothy Must Die? I'm happy to say that this book was a thousand times less annoying. Amy's feisty attitude in this book was a lot more realistic, and I felt like the things she said were things I could have said myself in certain situations, and you get this fantastic feeling when you see yourself in a character, even just a bit. She made snide comments and snarky remarks all the time–another bad habit I could totally relate to.
It wasn't just Amy that I found more realistic, but also how most of the characters acted under pressure. You know how insane it is when characters are still able to think straight during life-or-death situations? Yeah, it's crazy. I appreciated how the characters here acted the way I would've in those times: going insane or making stupid choices. It may sound weird to like it when characters make some idiotic decisions, but it's refreshing to not be baffled by seemingly "perfect" characters. I like them flawed, thanks.
While I approve of how the characters reacted, I didn't love most of the characters (and their relationships) as in general. A lot of them seemed inconsistent, or hot-and-cold to say the least. Like for example, one minute Nox is being sappy and sweet, and the next minute he's being a sissy. It's a bit frustrating.
The romance was really bothersome as well. This book would be a thousand times better and more irritating without it. Honestly, 90% of my eye rolls in this book were because of the romance. It was just completely unnecessary, and there was no chemistry between them at all. Plus, I don't want to read about Amy constantly pining for Nox and thinking about him even in the most dire situations.
Oh, there's also a sort-of love triangle but not really… I can't go into details, but that aspect of the book was really awkward as well.
Once you've traveled to the darker side of the rainbow, you've reached the end of the line.
But if there's one reason you have to read this book, definitely do it for the fantastic and whimsical world-building. Paige did a fantastic job re-imagining Oz and giving it such magical twists. And really, I was sold on the mere mention of unicorns (because unicorns are fabulous).
We delved deeper into Oz–both it's happier and darker parts, so there was a nice balance of settings. I love descriptive imagery, and Paige definitely nailed that. I just want to live in this crazy version of Oz forever. Or I just really want a unicorn.
This book also had a ton of action and death. What I liked about it was that there were a lot of smaller battle scenes scattered out throughout the book, and then there's a really big one during the climax.
The ending of this book was also spot-on. I have to say that I wasn't expecting all the twists that came around in the end. It's going to give you that whoa, why didn't I think of that? feeling. And then you just keep turning the pages and you suddenly realize that the book's over.
I would recommend The Wicked Will Rise to anyone looking for a unique take on The Wizard of Oz–a more action-packed and creative version of it, and who wouldn't mind a few mildly annoying bits.
The Wicked Will Rise by Danielle Paige is available in Fully Booked.
Purchase: Paperback | Hardcover
hardback photos © Aimee (Deadly Darlings)
paperback photos © Faye (The Social Potato)
[drag photos to a new tab for a bigger view]
We're giving away FOUR paperbacks of The Wicked Will Rise to four lucky Philippine residents! Prizes are courtesy of Fully Booked. Full giveaway terms are in the Rafflecopter. Good luck!
**Quick note: Faye of The Social Potato will be helping me ship the books. There's an extra entry for following her on Twitter!
…
About Aimee

Aimee loves being a little bookworm (okay–she doesn't like being
little
). She also loves chocolates and sweets but is freaked out by the thought of possibly getting diabetes.
Goodreads
 |
Twitter
 |
Instagram
| 
all of Aimee's posts →