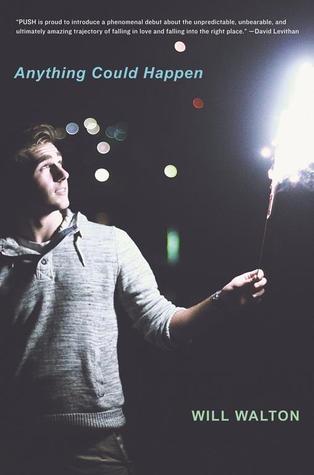 Anything Could Happen by Will Walton
to be published on May 26th 2015 by Push
young adult | contemporary | romance | lgbtq
find the book on
Goodreads
When you're in love with the wrong person for the right reasons, anything could happen.
Tretch lives in a very small town where everybody's in everybody else's business. Which makes it hard for him to be in love with his straight best friend. For his part, Matt is completely oblivious to the way Tretch feels – and Tretch can't tell whether that makes it better or worse.
The problem with living a lie is that the lie can slowly become your life. For Tretch, the problem isn't just with Matt. His family has no idea who he really is and what he's really thinking. The girl at the local bookstore has no clue how off-base her crush on him is. And the guy at school who's a thorn in Tretch's side doesn't realize how close to the truth he's hitting.
Tretch has spent a lot of time dancing alone in his room, but now he's got to step outside his comfort zone and into the wider world. Because like love, a true self can rarely be contained.
–
1. This book is about a gay narrator who sounds super cute and lovable.. Hooray for diversity!
2. The narrator has a crush on his best friend. Y'all know how I feel about best friend romances. I live for them.
3. Out of its 74 ratings so far, almost half of them are 5 star ratings. The average rating for this is 4.11.
4. Adam Silvera loved it. Kristen enjoyed it as well.
5. The guy on the cover is adorable.
PRE-ORDER ANYTHING COULD HAPPEN:
hardcover
Thoughts on my pick? What are you waiting on this week?
…
About Aimee
Aimee loves being a little bookworm (okay–she doesn't like being little). She also loves chocolates and sweets but is freaked out by the thought of possibly getting diabetes.