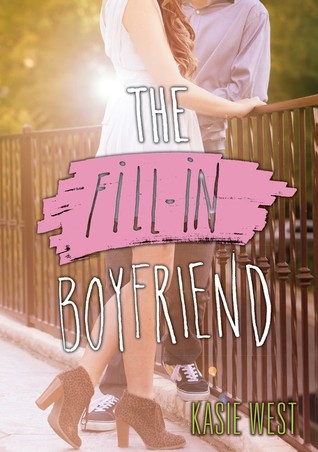 The Fill-in Boyfriend by Kasie West
published on May 5th 2015 by HarperTeen
young adult | contemporary | romance
find the book on
Goodreads
When Gia Montgomery's boyfriend, Bradley, dumps her in the parking lot of her high school prom, she has to think fast. After all, she'd been telling her friends about him for months now. This was supposed to be the night she proved he existed. So when she sees a cute guy waiting to pick up his sister, she enlists his help. The task is simple: be her fill-in boyfriend— two hours, zero commitment, a few white lies. After that, she can win back the real Bradley.
The problem is that days after prom, it's not the real Bradley she's thinking about, but the stand-in. The one whose name she doesn't even know. But tracking him down doesn't mean they're done faking a relationship. Gia owes him a favor and his sister intends to see that he collects: his ex-girlfriend's graduation party — three hours, zero commitment, a few white lies.
Just when Gia begins to wonder if she could turn her fake boyfriend into a real one, Bradley comes waltzing back into her life, exposing her lie, and threatening to destroy her friendships and her new-found relationship.
s-
*Minor spoilers, maybe.
The more I think about this book, the less I seem to like it. I'm completely bummed about that since The Fill-in Boyfriend was one of my most anticipated releases of 2015. You can't see me, but I'm pouting right now.
The first issue I had with the book came in just within the first couple of pages. I know that we're thrust into the book knowing that Fake Bradley will agree to the terms of being Gia's fake boyfriend, but the way it was executed in the actual book made no sense. It was completely random and unconvincing.
And then, ta-da! The heroine is suddenly obsessed with seeing this boy again. Of course she is. She thinks about him 24/7, even going as far as to stalk his little sister. She even admits that what she's doing is stalking, and she's okay with it.
Stalking aside, Gia's character was just generally petty and shallow. I could not connect to her at all. I know the feeling of a certain friend wanting to get you out of the picture. Really, I do. But please, handle your problems in a mature manner. I'm fifteen, and I talk things out with my friends if I feel like they're doing something wrong. I don't keep it a secret and lie to them.
There are other fish in the sea. It's a big ocean. Sometimes we need to catch and release a few before we find the keeper. Just keep swimming.
Other than that one piece of brilliant advice, Gia's parents are also mostly just… there. They don't have a strong, supportive presence. In fact, they were just like cardboard cut outs. They had no personality and were basically useless to the entire story, which is a shame since Kasie's other books have amazing family dynamics.
Speaking of cardboard cut-outs, we also have Gia's friends. They did have more prominent roles in the story compared to Gia's parents, but their personalities were incredibly stereotypical. No one really stood out to me.
Let's talk about Fake Bradley and the romance. With a heavy heart, I'm saying that The Fill-in Boyfriend did not give me any feels. At all. There was a lot of drama between these two by the last half of the book, and despite being a fan of angst, I just flinched instead. No flutters. No gigglesnorts. No swoons.
The only reason I'm not giving this book one star is because I appreciated how Gia's problems with her friends were realistic. Like I said, I've experienced them myself. I just wished that they'd been handled better, and more maturely. And also because I really liked Bec, Fake Bradley's sister, who was the hard-on-the-outside, soft-on-the-inside kind of girl.
book edition: paperback
photos © Aimee (Deadly Darlings)
[drag photos to a new tab for a bigger view]
PURCHASE THE FILL-IN BOYFRIEND
Paperback
…
About Aimee

Aimee loves being a little bookworm (okay–she doesn't like being
little
). She also loves chocolates and sweets but is freaked out by the thought of possibly getting diabetes.
Goodreads
 |
Twitter
 |
Instagram
| 
all of Aimee's posts →