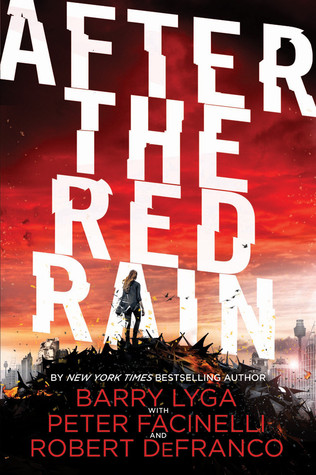 After the Red Rain


by Barry Lyga, Peter Facinelli, and Rob DeFranco 
published on August 4th, 2015 by Little, Brown Books for Young Readers
young adult | dystopian | science-fiction | romance
find the book on
Goodreads
A postapocalyptic novel with a cinematic twist from New York Times bestseller Barry Lyga, actor Peter Facinelli, and producer Robert DeFranco.
On the ruined planet Earth, where 50 billion people are confined to megacities and resources are scarce, Deedra has been handed a bleak and mundane existence by the Magistrate she works so hard for. But one day she comes across a beautiful boy named Rose struggling to cross the river–a boy with a secretive past and special abilities, who is somehow able to find comfort and life from their dying planet.
But just as the two form a bond, it is quickly torn apart after the Magistrate's son is murdered and Rose becomes the prime suspect. Little do Deedra and Rose know how much their relationship will affect the fate of everyone who lives on the planet.
I was a little uncertain about this book from the start.  I've never read Barry Lyga before, and the dystopian angle didn't sound particularly new.  However, it was so hyped at BEA that I decided to snag a copy from Netgalley.  Unfortunately, I should have considered my earlier reservations.  After the Red Rain is a mess of a book.  Yet it begins with such a thrilling, poignant moment:  a man in a strange factory of corpses, risking life and limb to save an infant from the grinding machines.  He gives her a strange, secret gift.  I was intrigued.  I was ready for something Matrix-like and dark.  
It's quite apparent that the teenage girl we meet in the next chapter, Deedra, is that baby.  Her world is a dead world, a world so toxic that 50 billion people died off in a matter of years, and the 50 billion who remain live in starvation and squalor.  They also live in fear of the Red Rain, the quasi-mythical event that destroyed half their kind.  While skeptical that 50 billion people could reasonably survive on a scorched planet (we're at 7 billion right now, if that helps), I enjoyed the sort of whimsical terror of Deedra's world, a world divided into territories ruled by dangerous, omnipotent autocrats.  A world of hopelessness.
That's where the book begins to unravel–pretty much instantly.  Deedra has a day off from her factory job and is out scrap-collecting with her friend–whose name I forgot, which should tell you about how important she is to this book–when she sees a beautiful girl across the river.  Only the girl is actually just a ridiculously beautiful boy who calls himself Rose.  He insinuates himself into Deedra's community and joins her at the factory.  He believes in the Red Rain, even though Deedra and many others think it's mere superstition.  He smells like heaven and wears a strange green coat.  His unsettling mix of innocence and perception terrify the higher-ups and put him on their radar.  When the territory leader's son is murdered, Rose becomes their prime suspect.
And that's sort of the book.  Rose and Deedra talk about the world and philosophical things.  Deedra falls in love with Rose because he's oh-so-beautiful and perceptive and just a freaking ray of sunshine in a bleak world.  Deedra learns of Rose's secrets and joins forces with an ambitious doctor, who believes that Rose's abilities may save the world, to protect Rose from execution for a crime he didn't commit.  You'd think this would all be fairly interesting, except that the writing is mediocre, the characters are flat, and the plot ambles along so slowly that I found myself skimming through nearly the whole last half.
In part, this book lost me with its absurdity.  I won't spoil the secret of Rose's abilities to you.  Let's just say that it was the most ridiculous thing I've heard in a while.  I began to suspect the truth early on, then thought to myself, "No, of course not.  That's just silly."  And then I found out it was real, and there was just no way to suspend disbelief.  It rankled me in that way that things do when you can tell the authors are trying too hard to be clever.  And failing.  Badly.
Then, of course, there's the freaking Red Rain.  They weren't kidding about the "After" part.  Even though there are hints of something dangerous going on in the territory, even though the Red Rain is tossed around a few times, it quickly takes a side seat in favor of the Romeo and Juliet love story and the plot to save Rose.  I couldn't get on board with the romance at all.  One, Deedra is annoying.  Two, Rose is exceptionally annoying.  They read as very naive (assuming you think Deedra has a personality at all) and their romance crescendos quickly.  It's page after page of sappy dialogue and unbelievable action scenes, culminating in a saccharine ending that couldn't have come too soon.
Somewhere near that ending, you learn what the Red Rain actually was.  It's discussed for a couple of sentences before it becomes completely unimportant and is never mentioned again.  And so, what could have been a relatively interesting take on dystopia and the problem of human survival in an overpopulated world became a laughable science-fiction love story worthy of Bella and Edward.  Coincidence that Peter Facinelli was involved?
I need to go read some Cormac McCarthy to cleanse my palate.
About C.J.
I'm a font of useless knowledge and an endless source of sarcasm. Oh, and I guess I read, too.