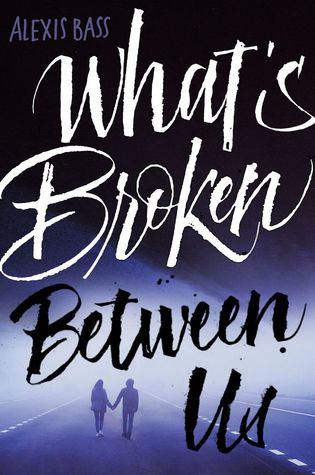 What's Broken Between Us
by Alexis Bass

published December 29th 2015 by HarperCollins
young adult | contemporary | romance
find the book on
Goodreads
A year and a half ago, Amanda Tart's brother got behind the wheel drunk and killed his best friend. Today, he's coming home from prison.
Amanda's been the one living with the fallout, made worse by her brother's recent unapologetic TV interview. People think he's a monster. Still, she loves him. It's her dark secret, until she starts getting close to Henry again–whose sister is paralyzed from the accident.
A year and a half ago, her brother destroyed his life. Now Amanda has to decide if she'll let his choice destroy hers.
Some wounds don't heal; they aren't supposed to.
I was looking forward to What's Broken Between Us for its fresh take on dark and realistic sibling dynamics, but, unfortunately, the sibling dynamics ended up being overpowered by romance.
A year and a half ago, Amanda Tart's brother Jonathan drove home from a party drunk and killed his best friend. Now, he's finally being released from prison. Conflicted about his release, Amanda must decide whether or not to forgive him.
Amanda is a bit void of personality and isn't especially memorable, but she is a decent enough protagonist. She has been through a lot the past year and her struggles and her emotions are realistically depicted.
Considering the entire plot was about Jonathan returning home from prison, I was expecting a lot of discussion and interaction between Amanda and Jonathon. How did Jonathon feel about what he did? How does he feel about everything he's put Amanda through because of his bad decisions? Unfortunately, what could have been a thought-provoking discussion about sibling dynamics ended up turning into an unnecessary romance.
The romance is between Amanda and Henry, the brother of the girl that Jonathan killed. The romance didn't feel necessary to me – it didn't add anything to the story, and it overpowered the plot. I felt the story would have been much better if the romance considerably shortened or cut altogether.
If you're going into this expecting it to be an interesting story about sibling dynamics, unfortunately you're mistaken. This is just another YA romance masquerading as a contemporary novel, which is unfortunate because there are so many dark and interesting themes that could have been discussed here.
About Zoe
Zoe is a critical reviewer. When she's not reviewing, you can find her performing in plays / musicals, doing gymnastics, or designing websites.