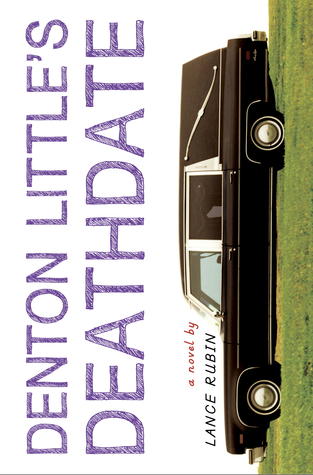 Denton Little's Deathdate
by Lance Rubin

published April 14th 2015 by Knopf Books for Young Readers
young adult | alternate reality
find the book on
Goodreads
Denton Little's Deathdate takes place in a world exactly like our own except that everyone knows the day they will die. For 17-year-old Denton Little, that's tomorrow, the day of his senior prom.
Despite his early deathdate, Denton has always wanted to live a normal life, but his final days are filled with dramatic firsts. First hangover. First sex. First love triangle. His anxiety builds when he discovers a strange purple rash making its way up his body. Is this what will kill him? And then a strange man shows up at his funeral, claiming to have known Denton's long-deceased mother, and warning him to beware of suspicious government characters…. Suddenly Denton's life is filled with mysterious questions and precious little time to find the answers.
Denton Little's Deathdate may not be especially thought-provoking or complex, but it is a a light and humorous read that is sure to entertain.
The story takes place in a world where everyone knows the day of their death. For 17-year-old Denton Little, that day is tomorrow.
Denton's narrative is surprisingly humorous – something you wouldn't expect from a book about death. Each word he says gives him a sense of realism that made him feel like a real teenager.
Where the story lost me is the ending. At the end, somehow the story is flipped and turns into a government conspiracy. This felt extremely forced and unnecessary and took away from the story's intriguing premise.
Additionally, I was expecting this to be a bit more meaningful and philosophical than it was. I previously read the anthology Machine of Death, which is a collection of stories surrounding an invention that tells you how you're going to die. When I put the book down, I couldn't stop thinking because of how thought-provoking the stories were.
With Denton Little's Deathdate, I didn't have that same reaction. It didn't leave me with anything to think about and it didn't leave much of an impact on me. Lance Rubin takes such a thought-provoking and debatable topic and turns it into something that has no real substance.
In the end, Denton Little's Death Date just wasn't as thought-provoking and layered as I expected it to be. The story itself lacked any true substance, and the ending felt cheap and contrived. I'd recommend Machine of Death instead.
About Zoe
Zoe is a critical reviewer. When she's not reviewing, you can find her performing in plays / musicals, doing gymnastics, or designing websites.