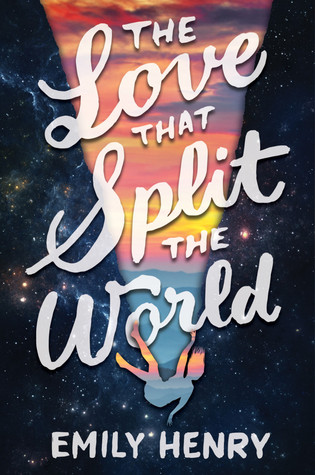 The Love That Split the World
by Emily Henry

published January 26th 2016 by Razorbill
young adult | contemporary | romance
find the book on
Goodreads | Book Depository
Natalie Cleary must risk her future and leap blindly into a vast unknown for the chance to build a new world with the boy she loves.
Natalie's last summer in her small Kentucky hometown is off to a magical start… until she starts seeing the "wrong things." They're just momentary glimpses at first—her front door is red instead of its usual green, there's a pre-school where the garden store should be. But then her whole town disappears for hours, fading away into rolling hills and grazing buffalo, and Nat knows something isn't right.
That's when she gets a visit from the kind but mysterious apparition she calls "Grandmother," who tells her: "You have three months to save him." The next night, under the stadium lights of the high school football field, she meets a beautiful boy named Beau, and it's as if time just stops and nothing exists. Nothing, except Natalie and Beau.
[PLOT]
typical | not quite there yet | cute |
unique 
| kicks serious ass | what's going on?!
[PACING]
snail's pace | slow | just right | fast | holy crap just stop |
inconsistent
[DIVERSITY] 
none :sadface: | some (minor characters) | LGBTQ |
mental health
| characters w/ disabilities | 
racial
| religion
[ROMANCE]
 insta-love 
| realistically paced | slow-burn | love triangle |
love square
| I am confused | none | it's complicated
[FEELS]
swoons | 
tears 
| laughs |
 cries of frustration 
|
eye rolls
 | pukes |
snores
| screams of horror |
holy shits
[WRITING]
 flowery prose | 
conversational 
| choppy or cluttered | telling, no showing | boring | info dump-y | simple
[ENDING]
cliffhanger | 
open ending
| satisfactory | was that an ending? |
want moarrr
| didn't get far enough | ehhh
[RECOMMENDED?]
heck no | eh |
to select people
 | mostly | YAS
…
REVIEW
7 Emotions The Love That Split the World Will Make You Feel

1. Suspicion – This book has a pretty unique, fantastical, kick-ass plot that'll make your head go crazy trying to dispatcher what's real and what isn't. It's more of a magical realism novel of sorts, with a hint of mystery thrown in for good measure.
2. Boredom – Okay, can we please talk about the info-dumps? Because Holy Grandmother, this book is FULL of them. You're going to get huge chunks of science-y (in which my brain would like to explode)/medical/story information in a single go, and if you have a short attention span like me, you may or may not fall asleep.
3. (Possibly) Indifferent – The writing's really conversational and easy to read in this one, but personally it sounded like it was trying a bit too hard to sound natural and funny. The humor was COMPLETELY lost on me. But there were lots of lovely quotable quotes if you're into that kind of thing.
4. Pride – Our heroine Natalie is a Native American who's open-minded, is against slut-shaming and is generally what a female lead should be. She's realistic, and isn't that "special snowflake" character we all know and love and want to strangle.
5. Frustration – Because the instalove here is just a big no-no. And also I can't stand it when the heroines let their love lives consume all their time, and that's basically what happened here. OH, and their relationship is just so full of I want yous… And for me, the phrase turns into I want to puke.
6. Love – The family love in this novel just makes you want to give out lots of Xs and Os and asdfghjkls. It has the kind of family where you just want to join everyone in one, big, adoptive group hug! (Especially near the end–the family dynamics there definitely made me cry!)
7. Confusion and/or Mixed Feelings – Because that ending. Eurgh. I stil dont know how to feel about it. It was both brilliant and shitty at the same time.
YOUR TURN!
Have you read The Love That Split the World? Do you want to? Let me know your thoughts in the comments below!
If you liked this post, spread the love and tweet about it! You can click on the image below to automatically tweet:
About Aimee
Aimee loves being a little bookworm (okay–she doesn't like being little). She also loves chocolates and sweets but is freaked out by the thought of possibly getting diabetes.
Goodreads | Twitter | Instagram | RedBubble | all of Aimee's posts →