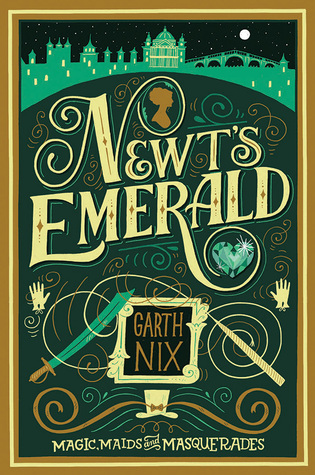 Newt's Emerald


by Garth Nix
Newt's Emerald
published on October 15th, 2015 by Katherine Tegen Books
young adult | historical fantasy | gaslight
find the book on
Goodreads
On her eighteenth birthday, Lady Truthful, nicknamed "Newt," will inherit her family's treasure: the Newington Emerald. A dazzling heart-shaped gem, the Emerald also bestows its wearer with magical powers.
When the Emerald disappears one stormy night, Newt sets off to recover it. Her plan entails dressing up as a man, mustache included, as no well-bred young lady should be seen out and about on her own. While in disguise, Newt encounters the handsome but shrewd Major Harnett, who volunteers to help find the missing Emerald under the assumption that she is a man. Once she and her unsuspecting ally are caught up in a dangerous adventure that includes an evil sorceress, Newt realizes that something else is afoot: the beating of her heart.
In Newt's Emerald, the bestselling author of Sabriel, Garth Nix, takes a waggish approach to the forever popular Regency romance and presents a charmed world where everyone has something to hide.
This is my first Nix book (*hides behind barricade*) so I can't compare it to Sabriel.  On it's own, Newt's Emerald is a cute, quirky magical tale reminiscent of Diana Wynne Jones.  It's a light, tongue-in-cheek fantasy with a spunky heroine and swoony romance.
I LOVED the atmosphere.  Nix creates a fantasy world that's more Howl's Moving Castle than Game of Thrones.  It's quasi-Regency England dusted with a coat of whimsy and a splash of magic.  There's a spirited feel to the writing, a gameness and playfulness that makes this a fun rather than harrowing read.
I LOVED the characters and their intertwining.  Lady Truthful (whose very name reinforces the whimsy mentioned above) is a spritely lass, clever and a little foolhardy, with a quick wit and charming demeanor.  Harnett is charmingly rogueish in that way that gets me every time.  Their sniping and banter and grudging affection is stomach-squirmingly adorable.
I LIKED the adventurous plot.  It's Truthful's birthday and she wants to show her gentleman friends the precious emerald.  Of course, it happens to go missing!  It's a bit contrived, but leads into a delightful swashbuckling adventure full of near kisses, blustering baddies, evil witches, and cross dressing.  It's a fast, thrilling read.
I DISLIKED something I can't quite put my finger on.  It was a good book but not a great one.  I can't quite decide why.  Perhaps it was just a little formulaic, or the stakes weren't high enough, or…something.  It was the kind of book that I enjoyed immensely while reading, but it hasn't stuck with me like other stories have, even other stories with similarly fluffy whimsical feels (c.f. Howl's Moving Castle).
…
About C.J.
I'm a font of useless knowledge and an endless source of sarcasm. Oh, and I guess I read, too.
Goodreads | Twitter | Facebook | Blog | all of C.J.'s posts →