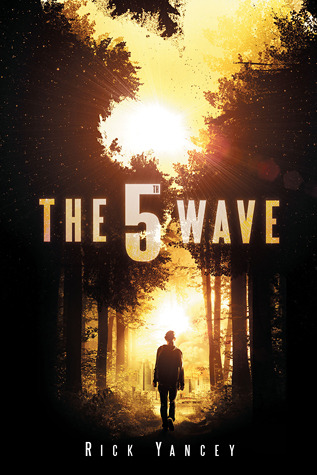 The 5th Wave


by Rick Yancey
Published May 7th 2013 by G.P. Putnam's Sons Books for Young Readers
young adult | science fiction | romance
find the book on
Goodreads
After the 1st wave, only darkness remains. After the 2nd, only the lucky escape. And after the 3rd, only the unlucky survive. After the 4th wave, only one rule applies: trust no one.
Now, it's the dawn of the 5th wave, and on a lonely stretch of highway, Cassie runs from Them. The beings who only look human, who roam the countryside killing anyone they see. Who have scattered Earth's last survivors. To stay alone is to stay alive, Cassie believes, until she meets Evan Walker. Beguiling and mysterious, Evan Walker may be Cassie's only hope for rescuing her brother–or even saving herself. But Cassie must choose: between trust and despair, between defiance and surrender, between life and death. To give up or to get up.
Aliens are coming! Not to save us or communicate with us, though. Oh, no. Aliens are coming to kill us.
But that should be pretty obvious, right? Since when do aliens, or the ones we've seen in the movies, at least, ever come other than to cause trouble? In The 5th Wave, that's exactly what they came to do. The only problem is that no one knew what they looked like (probably not like green sticks with bobble heads), which made it easier for the aliens to attack. They attacked in 5 waves, and Cassie, our protagonist, survived 4.
The plot was unique. Not the alien part (because when has that not been done?), but the waves. An EMP crashes all devices and electricity, tsunami's flood cities and countries, birds carry a deadly and contagious disease, and aliens pass as human beings only to kill real human beings. Let's just say the alien's enjoy mass-killing with a little bit of spice.
Moral of the first 4 waves: do not trust other human beings. They could be aliens for all you know. In the beginning, Cassie lived by that motto. Then she met Evan Walker, and what did she do? She immediately trusted him. Cue the eyeroll. Yes, there was instalove. Yes, his job was to kill her but for some unknown, unbelievable reason, he did the exact opposite (because she's apparently special compared to the hundred other humans he's killed???). Yes, it was ridiculous. But I liked Evan and there is no shame on my part. He could shoot and kill with little effort! It was soo cool!!!!!!!!! (No, children, I don't condone killing. But when you gotta get through bad aliens to rescue your brother during the end of the world, a guy like Evan comes in handy.)
[Okay, but on a sidetone, I won't ignore how easily Cassie trusted him. She knew better and yet she still kept fooling herself. Come on, YA, haven't we had enough of that????]
I admired Yancey's writing style and his ability to handle four POV's. I was able to keep up with each one and it allowed an insight to different conflicts during the alien invasion. The only problem I had was with Sam's POV, a 5 year old boy who sounded like a young adult more than anything else… But he was a cutie pie, so who cares?
My favorite character, however, was Ben. Benjamin Thomas Parish. Wow. So beautiful, I think I shed a tear. I smell a love triangle coming up soon, but hey, we'll see how it goes.
It's a good book, but not great. The plot, the writing, and the characters were a joy to read about. Although there were minor set-backs, I was able to overlook them and enjoy the book as a whole. I'm so excited to read The Infinite Sea!
Bring it on, Yancey!
You can find this review on Goodreads.
About Sara
I'm Sara, a Colombian teenager with a never-ending enjoyment for reading. I'm a Netflix and Disney enthusiast and my monumental obsession is coffee.