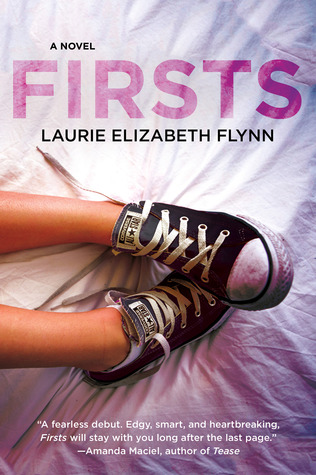 Firsts


by Laurie Elizabeth Flynn
published January 5th 2016
by St. Martin's Griffin
young adult | contemporary | romance
find the book on
Goodreads | Book Depository
Seventeen-year-old Mercedes Ayres has an open-door policy when it comes to her bedroom, but only if the guy fulfills a specific criteria: he has to be a virgin. Mercedes lets the boys get their awkward, fumbling first times over with, and all she asks in return is that they give their girlfriends the perfect first time- the kind Mercedes never had herself.
Keeping what goes on in her bedroom a secret has been easy- so far. Her absentee mother isn't home nearly enough to know about Mercedes' extracurricular activities, and her uber-religious best friend, Angela, won't even say the word "sex" until she gets married. But Mercedes doesn't bank on Angela's boyfriend finding out about her services and wanting a turn- or on Zach, who likes her for who she is instead of what she can do in bed.
When Mercedes' perfect system falls apart, she has to find a way to salvage her reputation and figure out where her heart really belongs in the process.
[PLOT]
typical | not quite there yet | cute |
unique 
| kicks serious ass | what's going on?!
[PACING]
snail's pace | slow |
just right
 | fast | holy crap just stop | inconsistent
[DIVERSITY] 
none :sadface: | some (minor characters) | LGBTQ | mental health | characters w/ disabilities | racial |
religion
[ROMANCE]
 insta-love | realistically paced |
slow-burn
| love triangle | love square | I am confused | none |
it's complicated
[FEELS]
swoons 
| 
tears 
| laughs | cries of frustration | eye rolls | pukes | snores | screams of horror |
holy shit
s
[WRITING]
 flowery prose | 
conversational 
| choppy or cluttered | telling, no showing | boring | info dump-y | simple
[ENDING]
cliffhanger | open ending | satisfactory | was that an ending? |
want moarrr
| didn't get far enough | ehhh
[RECOMMENDED?]
heck no | eh | to select people | mostly | 
YAS
8 Things You Will Love About Firsts
1. Firsts is raw, compelling and honest. It's a book about a teen who thinks of sex as a way to be in control. It's a book that definitely doesn't shy away from the nitty and gritty, a topic that most young adult novels would opt to leave out.
2. Firsts is incredibly complex. It has a complex story–one that you yourself would definitely not want to get tangled in–and complex characters who you may or may not fully understand even as the novel comes to a close.
3. Firsts has a heroine who goes through so much development. Mercy isn't a character you'll immediately love. In fact, you might even not like her until the end. Despite this, you'll still see her grow so much as a character as she discovers herself, and you'll sympathize with her like I did.
4. Firsts has the most adorable love interest ever. Holy Mother of Cute Guys, Zach Sutton is on a different level of "book boyfriend." He's sweet, persistent and loving. Plus he's witty and sexy and you're just going to adore him. I promise.
5. Firsts has really strong friendships. The friends in this book have their ups and downs, but eventually learn to accept each other, and the fact that they need each other. This book also proves that sometimes you'll love your new friends as much as those you've known for years.
6. Firsts teaches you that every action has a consequence. And you have to be ready for it. Yeah, sure, Mercy wanted to hide and never go to school again, but in the end, she chose to face her fate with her head held high.
7. Firsts tells you that it's okay to wait if you want to. Angela, Mercy's best friend, is a Catholic and is sworn to celibacy. And that's fine–you're going to love how Mercy accepts that, despite having slept with many men herself.
8. I loved Firsts. That's a good reason, yeah?
YOUR TURN!
Have you read Firsts? Do you want to? Let me know your thoughts in the comments below!
About Aimee
Aimee loves being a little bookworm (okay–she doesn't like being little). She also loves chocolates and sweets but is freaked out by the thought of possibly getting diabetes.