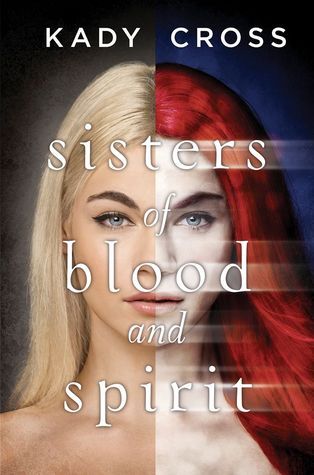 Sisters of Blood and Spirit
by Kady Cross

published March 31st 2015 by Harlequin Teen
young adult | paranormal
find the book on
Goodreads
Wren Noble is dead—she was born that way. Vibrant, unlike other dead things, she craves those rare moments when her twin sister allows her to step inside her body and experience the world of the living.
Lark Noble is alive but often feels she belongs in the muted Shadow Lands—the realm of the dead. Known as the crazy girl who talks to her dead sister, she doesn't exactly fit in with the living, though a recent suicide attempt and time in a psych ward have proved to her she's not ready to join her sister in the afterlife.
Now the guy who saved Lark's life needs her to repay the favor. He and his friends have been marked for death by the malevolent spirit of a vicious and long-dead serial killer, and the twins—who should know better than to mess with the dead—may be their only hope of staying alive.
Sisters of Blood and Spirit is an engaging and unique paranormal story with one of the most realistic and well-written sibling relationships I've ever read.
Lark and Wren Noble aren't your typical twin sisters: Lark is alive; Wren died at birth. Yet, Lark has been able to see and communicate with Wren ever since she was young, and they have been inseparable ever since.
Labeled as "crazy" for talking to her dead sister, Lark has lived her entire life friendless and is constantly bullied. It's painful to see what Lark has to go through on a daily basis – the whispers, the glares, and the rumors – and it's hard not to sympathize for her.
All Wren wants is to join the world of the living to be with her sister, something most other ghosts would find unthinkable.
Now, rumors of a murderous ghost have sprouted, and Lark and Wren must use their unique abilities to stop the ghost before it murders more people.
Lark and Wren's dynamic is what truly makes the story shine. These are two siblings who know each other inside and out, and their relationship is both realistic and heartwarming. It's clear how much they both truly care for each other.
Where I found the story lacking was in the romance. There was hints of a love triangle that didn't feel completely developed, and I wish it was removed or, at the very least, developed more.
All in all, Sisters of Blood and Spirit is a very unique and compelling ghost story with superb sibling dynamics that fans of Dawn Kurtagich's The Dead House will adore.
---
About Zoe
Zoe is a critical reviewer. When she's not reviewing, you can find her performing in plays / musicals, doing gymnastics, or designing websites.