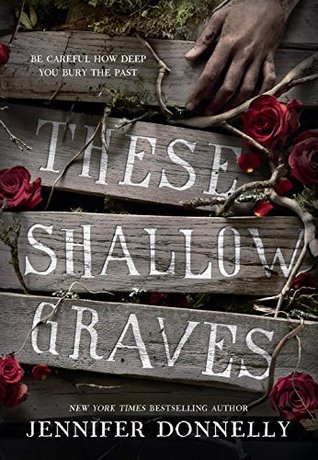 These Shallow Graves


by Jennifer Donnelly 
These Shallow Graves
published on October 27th by Random House Delacorte
young adult | mystery | historical
find the book on
Goodreads
Jo Montfort is beautiful and rich, and soon—like all the girls in her class—she'll graduate from finishing school and be married off to a wealthy bachelor. Which is the last thing she wants. Jo secretly dreams of becoming a writer—a newspaper reporter like the trailblazing Nellie Bly.
Wild aspirations aside, Jo's life seems perfect until tragedy strikes: her father is found dead. Charles Montfort accidentally shot himself while cleaning his revolver. One of New York City's wealthiest men, he owned a newspaper and was partner in a massive shipping firm, and Jo knows he was far too smart to clean a loaded gun.
The more Jo uncovers about her father's death, the more her suspicions grow. There are too many secrets. And they all seem to be buried in plain sight. Then she meets Eddie—a young, brash, infuriatingly handsome reporter at her father's newspaper—and it becomes all too clear how much she stands to lose if she keeps searching for the truth. Only now it might be too late to stop.
The past never stays buried forever. Life is dirtier than Jo Montfort could ever have imagined, and the truth is the dirtiest part of all.
These Shallow Graves is an atmospheric, adventurous murder mystery set in the prim and proper Victorian era, pitting a high society girl with big dreams against the dark secrets of her family's past.
I LOVED the characters.  It helped that Eddie reminded me of Daniel Sheridan in the best ways.  But really, the characters were well drawn, complex individuals.  Jo herself is strikingly selfish sometimes, but also endearing for her kindness, bravery, and spirit.  Eddie is an adorable rapscallion, totally swoonworthy.  Jo's mother is the grieving widow, lenient but afraid of society.  Bram is sweet, his grandmother is hysterically bawdy, the coroner is a lovable nerd, Uncle Phillip is layered with secrets.  I only felt that Fay and Jo's father seemed a little shortchanged, but not enough to ruin my enjoyment of them.
I LOVED the writing.  Donnelly has a pretty way of writing that evokes the Victorian spirit without being too ornate or over-the-top.  She paints the gritty underbelly and posh high society with historical authenticity, sprinkling in real people like Nellie Bly to add an extra touch of realness.  While there was nothing extra-ordinarily gorgeous about her writing, not like the lushness of Renee Ahdieh or Libba Bray, it still smacks with polish, prettiness, and an easy flow.
I LIKED the mystery.  It's a heck of an opening.  Jo's father has been shot.  There was no sign of forced entry.  Is it murder?  Suicide?  A tragic accident?  Jo's grief and intrepid spirit won't let her settle with the story the police satisfy themselves with; she knows her father, and she wants the truth.  Her search leads her into seedy bars, back alleys, and the arms of a dashing rogue of a newsboy.  Some of the twists are really clever, and the skeleton of the story is a solid scaffold for a mystery.
I DISLIKED some of the events.  I'm picky about my mysteries, however.  If I guess them early, then the chase must be satisfying.  Otherwise I want to be kept guessing.  I felt like there was just something lacking in the construction of the investigation.  A few too-convenient finds, lucky happenings that seemed contrived, details that should be so obvious not learned by the characters until later.  At other times it seemed too convoluted.  There was just a tightness that I found lacking.  And Jo really does treat Eddie pretty terribly at times, which is less of a writing flaw and more just something that made me mad at her.
Overall, despite some clumsiness and incredulity, it's charming period mystery for anyone who loves Jackaby, The Diviners, or other twisty tales.
…
About C.J.
I'm a font of useless knowledge and an endless source of sarcasm. Oh, and I guess I read, too.
Goodreads | Twitter | Facebook | Blog | all of C.J.'s posts →