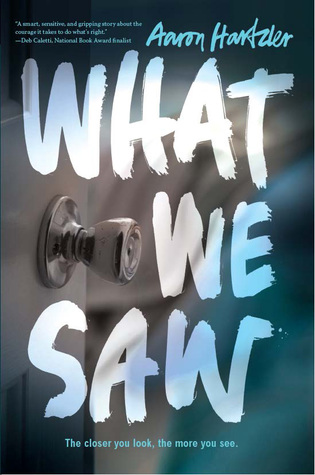 What We Saw


by Aaron Hartzler 
What We Saw
published on September 22nd, 2015 by Harper Teen
young adult | contemporary | rape culture
find the book on
Goodreads
Kate Weston can piece together most of the bash at John Doone's house: shots with Stacey Stallard, Ben Cody taking her keys and getting her home early—the feeling that maybe he's becoming more than just the guy she's known since they were kids.
But when a picture of Stacey passed out over Deacon Mills's shoulder appears online the next morning, Kate suspects she doesn't have all the details. When Stacey levels charges against four of Kate's classmates, the whole town erupts into controversy. Facts that can't be ignored begin to surface, and every answer Kate finds leads back to the same question: Where was Ben when a terrible crime was committed?
This story—inspired by real events—from debut novelist Aaron Hartzler takes an unflinching look at silence as a form of complicity. It's a book about the high stakes of speaking up, and the razor thin line between guilt and innocence that so often gets blurred, one hundred and forty characters at a time.
What We Saw is a raw, unflinching portrayal of guilt-by-association.  It's a quick, but powerful read that begs its readers to question who is truly innocent, who is guilty, and who has the responsibility to stand up against the delusion of the masses.  Honestly, this should be required reading for every high school freshman.
I LOVED the rawness.  Hartzler doesn't pull any punches.  He doesn't create any blameless innocents.  Even the ones who come out on the better side of things are still shown with all their flaws, their past crimes.  The result is a soul-wrenching story of how the trauma of rape doesn't end with the act–it continues with the victim blaming, the slut shaming, the gossip, the people who attack and disbelieve and revile.  It's a gritty fictionalization of Stuebenville–and what could happen if someone decides to turn the tide.
I LOVED the construction.  Kate is the perfect MC because she's a well-drawn person, but she's also all of us.  The average person.  The bystander who wasn't there–so is she responsible to take a stand?  Her struggles navigating the space between social responsibility and self-preservation ring with authenticity.  Her questions are ours.  Her fears hark to the fears of every teenager.  In the same way, the incident itself, the people involved, and the aftermath in a small town aren't sensationalized.  No one is demonized–or idealized.  Hartzler thrives in the grayness of moral ambiguity.
I LIKED the characters.  The characters are somewhat more forgettable than the story itself, but they're easy enough to connect with while you're reading.  Kate is like the poster child for the average teenager girl.  Not in a bad way!  She's just a real person.  Not a superstar or a hero.  A person like anyone else.  Ben is the perfect counterpoint, smooth and well-liked but with a fully realistic dark side.  Oddly enough, the character you learn the least about is Stacey.  But I think it works.  Like Kate and everyone else, what you hear about Stacey is what other people have created her to be.
I thought the writing was DECENT.  I'm a bit snobby when it comes to writing, so I found the rather simple, clean-cut style to be less striking than I've read in other contemporaries.  It's not that it was bad.  It just wasn't particularly sharp.  There were a few quotes that really resonated with me, but I found myself reading pretty quickly, which usually means that I'm not wallowing in the word choice.
…
About C.J.
I'm a font of useless knowledge and an endless source of sarcasm. Oh, and I guess I read, too.
Goodreads | Twitter | Facebook | Blog | all of C.J.'s posts →