Hi everyone! I am SO stoked to be a part of the Long Way Down blog tour, hosted by the authors Krista and Becca Ritchie! Today, I have a guest post and giveaway from the authors, and you guys would not want to miss this!
You fan find the full tour schedule here!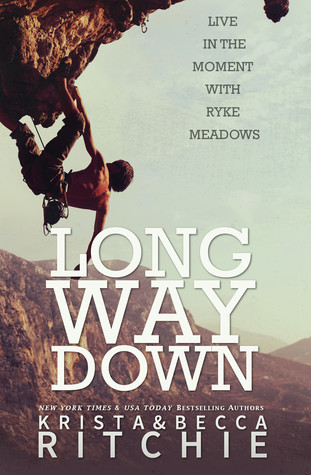 Long Way Down


by Krista & Becca Ritchie
Calloway Sisters, #4
published on November 20th 2015 (self-published)
new adult | contemporary | romance
find the book on
Goodreads
With a seven-year age difference, Ryke & Daisy have faced an uphill battle in the eyes of the world and their families. Known as the most adventurous, fast-paced couple — their next step has always been elusive to the rabid media.
Behind the scenes, heartbreaking troubles continue to test Ryke & Daisy's resilience and shape their future together.
They promise:
To never slow down.
To never compromise who they are.
To never abandon their love for each other.
But preserving their happiness also means adding more risks. Ones that Connor Cobalt wouldn't even take. As a professional free-solo climber, Ryke is no stranger to risk, but his next step with Daisy wagers more than just his health.
With their lives on the line, Ryke & Daisy head towards the vast, wild unknown in this epic final conclusion to the Addicted series.
THANKSGIVING WITH THE ADDICTED CHARACTERS
Since Thanksgiving is almost upon us, we thought we'd share a little bit about what the Addicted Characters are thankful for. Not all of the Characters will take this exercise serious. Fun Fact: We have many holidays in the series, but the only Thanksgivings shown are in Addicted to You and Thrive.
DAISY CALLOWAY
This year, Daisy Calloway is thankful for chocolate, fields of meadows, and her new husky, Coconut. During Thanksgiving, Daisy makes sure that there is at least one chocolate pie. And every year, it's that chocolate pie that has the least love (by other people). She still doesn't understand why the pumpkin and pecan pies win.
RYKE MEADOWS
Ryke Meadows is thankful for his little brother being sober, Daisy starting to sleep longer nights and being able to call her his girlfriend. His favorite Thanksgiving meal is green bean casserole, which is another non-favorite among the group as a whole.
Rose Calloway is thankful for her little gremlin (Jane) and Coco Chanel. (Note: She always thanks Coco Chanel every year – no matter what.) Everyone refuses to let Rose into the kitchen after the meal, since it's like a hurricane exploded and they want to save her from the stress.
CONNOR COBALT
Connor Cobalt is thankful for himself. This thanksgiving, they let him cut the turkey. He plans to keep that tradition alive since he doesn't want Rose or Lo anywhere near the knife.
LILY CALLOWAY
Lily Calloway is thankful for Teen Wolf still being on air, Harry Potter, and the future X-Men movies. Oh, and LOREN HALE! She overeats during Thanksgiving and conks out on the couch afterwards. Luckily, Lo will cuddle with her.
LOREN HALE
He repeats exactly what Lily is thankful for every single year. His favorite dish is the stuffing. And if he's able to sneak into the kitchen before the cooking begins, he'll steal the raw turkey and chase Lily around the house with it.
Thank you so much to Krista, Becca and the gang for stopping by!
Krista & Becca Ritchie are New York Times and USA Today bestselling authors and identical twins—one a science nerd, the other a comic book geek—but with their shared passion for writing, they combined their mental powers as kids and have never stopped telling stories. Now in their early twenties, they write about other twenty-somethings navigating through life, college, and romance. They love superheroes, flawed characters, and soul mate love.
This EPIC giveaway is open internationally! Here are the prizes available:
5 – $20 Amazon Gift Cards

3 – Signed Paperbacks of LONG WAY DOWN
YOUR TURN!
ARE YOU EXCITED FOR LONG WAY DOWN? If you haven't read this series yet, what are you waiting for?? Which character has a similar way of celebrating Thanksgiving as you?
If you liked this post, spread the love and tweet about it! You can click on the image below to automatically tweet:
About Aimee
Aimee loves being a little bookworm (okay–she doesn't like being little). She also loves chocolates and sweets but is freaked out by the thought of possibly getting diabetes.