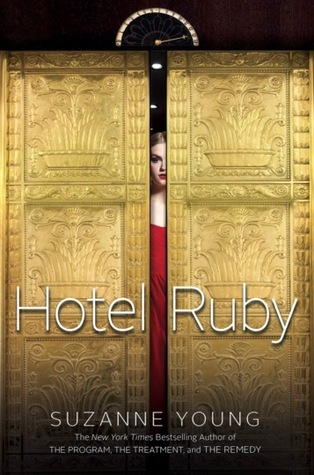 Hotel Ruby


by Suzanne Young
originally published November 3rd 2015
published by Simon Pulse
young adult | mystery | contemporary | romance  | horror
find the book on
Goodreads | Book Depository
Stay Tonight. Stay Forever.
When Audrey Casella arrives for an unplanned stay at the grand Hotel Ruby, she's grateful for the detour. Just months after their mother's death, Audrey and her brother, Daniel, are on their way to live with their grandmother, dumped on the doorstep of a DNA-matched stranger because their father is drowning in his grief.
Audrey and her family only plan to stay the night, but life in the Ruby can be intoxicating, extending their stay as it provides endless distractions—including handsome guest Elias Lange, who sends Audrey's pulse racing. However, the hotel proves to be as strange as it is beautiful. Nightly fancy affairs in the ballroom are invitation only, and Audrey seems to be the one guest who doesn't have an invite. Instead, she joins the hotel staff on the rooftop, catching whispers about the hotel's dark past.
The more Audrey learns about the new people she's met, the more her curiosity grows. She's torn in different directions—the pull of her past with its overwhelming loss, the promise of a future that holds little joy, and an in-between life in a place that is so much more than it seems…
Welcome to the Ruby.
[PLOT] typical | not quite there yet | cute | unique | kicks serious ass | what's going on?!
[PACING] snail's pace | slow | just right | fast | holy crap just stop
[DIVERSITY] none :sadface: | some (minor characters) | LGBTQ | mental health | characters w/ disabilities | racial | religion
[ROMANCE] insta-love | realistically paced | slow-burn | love triangle | love square | I am confused | none | it's complicated
[FEELS] swoons | tears | laughs | cries of frustration | eye rolls | pukes | snores | screams of horror | holy shits
[WRITING] flowery prose | conversational | choppy or cluttered | telling, no showing | boring | info dump-y | simple
[ENDING] cliffhanger | open ending | satisfactory | was that an ending? | want moarrr | didn't get far enough | ehhh
[RECOMMENDED?] heck no | eh | to select people | mostly | YAS
I wanted so much to love this book as much as I did Suzanne's others, but ended up being one of the biggest disappointments of the year thus far for me.
Characterization and relationships are what Suzanne Young does best–unfortunately, I feel like those two aspects failed in Hotel Ruby. I wasn't really engaged in anyone's character, and was actually pretty annoyed at the romance.
Don't get me wrong–Audrey's a pretty decent character. She's likable enough, in a way that she loves her family so much and is willing to sacrifice her own happiness for their sake, but I can't really name any other memorable qualities of hers other than that.
The other characters didn't have very strong enough personalities. Majority of them were nice and friendly, but again, not memorable. There were a few that were more prominent than others, although honestly, a week after reading, I can't even remember their names anymore.
The romance was the thing I was most looking forward to, knowing how Suzanne can always make me cry with her angsty couples. The love interest in Hotel Ruby was sweet and all, but the romance progressed way too quickly, making it impossible for me to ship. Most of the time, I even wanted to rip them apart from each other.
I couldn't connect with anything, either. As usual, Suzanne's writing was very easy to read, with its conversational tone, but for some strange reason–maybe because I read this book when I wasn't fully in the mood for it–I didn't feel anything while I read the book.
If there's anything I did like about the book though, it's definitely the atmosphere of the Hotel Ruby. The hotel was eerie, creepy and was described amazingly. The twists about the hotel itself were shocking to me, and I was just, "Whoa," as things started revealing themselves.
Overall, this isn't a book I'd recommend to everyone, but if you like gorgeous descriptions and quick mysteries, maybe consider giving Hotel Ruby a shot. If disconnection ruins a book for you, maybe not.
About Aimee
Aimee loves being a little bookworm (okay–she doesn't like being little). She also loves chocolates and sweets but is freaked out by the thought of possibly getting diabetes.