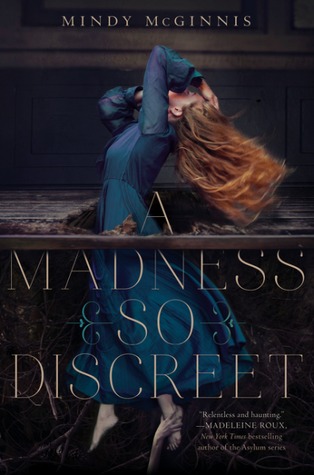 A Madness So Discreet


by Mindy McGinnis
originally published on October 6th 2015
published by Katherine Tegen Books
young adult | historical | mystery | thriller
find the book on
Goodreads
Grace Mae knows madness.
She keeps it locked away, along with her voice, trapped deep inside a brilliant mind that cannot forget horrific family secrets. Those secrets, along with the bulge in her belly, land her in a Boston insane asylum.
When her voice returns in a burst of violence, Grace is banished to the dark cellars, where her mind is discovered by a visiting doctor who dabbles in the new study of criminal psychology. With her keen eyes and sharp memory, Grace will make the perfect assistant at crime scenes. Escaping from Boston to the safety of an ethical Ohio asylum, Grace finds friendship and hope, hints of a life she should have had. But gruesome nights bring Grace and the doctor into the circle of a killer who stalks young women. Grace, continuing to operate under the cloak of madness, must hunt a murderer while she confronts the demons in her own past.
[PLOT] typical |
not quite there yet
 | cute | unique | kicks serious ass | 
what's going on?!
[PACING] snail's pace | slow |
just right
 | fast | holy crap just stop
[DIVERSITY] none :sadface: | some (minor characters) | LGBTQ |
mental health
| characters w/ disabilities | racial | religion
[ROMANCE] insta-love | realistically paced | slow-burn | love triangle | love square | I am confused |
none
| it's complicated
[FEELS] swoons | tears | laughs | cries of frustration | eye rolls | pukes |
snores
| screams of horror |
holy shits
[WRITING] flowery prose | conversational | choppy or cluttered | telling, no showing |
boring
| info dump-y |
simple
[ENDING] cliffhanger | open ending |
satisfactory 
| was that an ending? | want moarrr | didn't get far enough
[RECOMMENDED?] heck no |
eh
| to select people | mostly | YAS
Am I a fan of bone-chilling thrillers? Yes.
Am I a fan of spine-tingling horrors? YES.
Am I a fan of hair-raising brilliancy? ASDFGHJKL YES.
Was A Madness So Discreet any of those things? Erm… no.
Then what the heck was it?!
Honestly, I'm not too sure myself. If anything, A Mandess So Discreet was weird as fuck. I had no idea what the heck was going on. And if I'm being really honest (which I am), I would have to say that the whole book just felt so pretentious.
First of all, the writing was really stiff (in an attempt to be quirky) and made me incredibly detached from the story and the characters. In fact, there were some points in the book where I'll admit that I did fall asleep trying to finish a chapter.
The story itself, like I said, was weird. Normally I love weird books, but this book wasn't entertaining-weird, but more of eh?-weird. It was boring, really. I couldn't keep myself interested in the mystery at all. The shift between storylines (I mean from Grace's being stuck in the asylum to suddenly turning into a female Sherlock Holmes) is a bit rough for me as well, and it took a while for my brain to catch up.
I liked the idea of the characters (but like I said earlier, I couldn't connect to them). Grace was headstrong, focused on her goal, but also had a very vulnerable side. She made some bad decisions, sure, but she did what she believed was right.
Grace's relationships with other characters were pretty wonderful, too. She became really close with the other women at the asylum, and their support for each other was amazing. She and the Doctor had a hot-and-cold relationship, but I'll have to admit that I did ship them at one point. (This book has zero romance, though.)
Ultimately, this book could have been an amazing read for me, but the writing just made it so hard to get into.
YOUR TURN!
Have you read A Madness So Discreet? If you have, what did you think of it? If you haven't, do you want to read it?
If you liked this post, spread the love and tweet about it! You can click on the image below to automatically tweet:
About Aimee
Aimee loves being a little bookworm (okay–she doesn't like being little). She also loves chocolates and sweets but is freaked out by the thought of possibly getting diabetes.