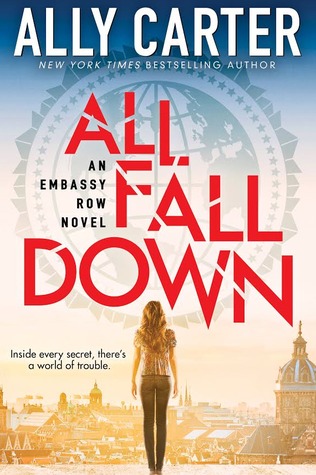 All Fall Down
by Ally Carter

published January 20th 2015 by Scholastic Press
young adult | mystery
find the book on
Goodreads
Grace Blakely is absolutely certain of three things:
1. She is not crazy.
2. Her mother was murdered.
3. Someday she is going to find the killer and make him pay.As certain as Grace is about these facts, nobody else believes her — so there's no one she can completely trust. Not her grandfather, a powerful ambassador. Not her new friends, who all live on Embassy Row. Not Alexei, the Russian boy next door, who is keeping his eye on Grace for reasons she neither likes nor understands.Everybody wants Grace to put on a pretty dress and a pretty smile, blocking out all her unpretty thoughts. But they can't control Grace — no more than Grace can control what she knows or what she needs to do. Her past has come back to hunt her . . . and if she doesn't stop it, Grace isn't the only one who will get hurt. Because on Embassy Row, the countries of the world stand like dominoes, and one wrong move can make them all fall down.
Like everything Ally Carter writes, All Fall Down is a quick and entertaining read with a creative and unique plot and a realistic, sassy heroine. Yet, I couldn't help but want more depth in the story.
Three years ago, Grace's mother was murdered in front of her, leaving her traumatized. Things are finally starting to become normal again when Grace spots the man who killed her mother. And he's planning to commit another murder. When no one believes her, Grace is forced to take the situation into her own hands – and hopefully stop it before it's too late.
Grace is a character that you can't help but sympathize for. She's traumatized after the her mother's murder, yet she is strong enough not to have lost her wit, sass and sarcasm. I admired her ability to stand up for what she believed was right. At the end of the day, however, she wasn't especially memorable. Her character was entertaining and fun to read about, but she simply didn't have much of a lasting impact on me.
What made the story so intriguing was the setting Ally Carter created. The story is set in a community where representatives from various countries are sent to live side by side and promote peace.

Sometimes the walls that stand between us and our neighbors are all that stand between our country and war.
The setting and the way the international relations are described was like anything I've ever read before. Imagine living in a house, and stepping nextdoor and being in an entirely different country. That's what the dynamic here was like. The way Ally Carter wrote the interactions between the diplomats of each country was so intriguing.
The ending was a bit predictable, but the story makes up for that and its overall lack of depth by being such an entertaining tale. Carter surely did her research on international relations and various foreign affairs, and that knowledge shines here in the best way possible.
TWEET ABOUT THIS REVIEW!
Did you enjoy Zoe's review for All Fall Down? Share the love by tweeting about it! You can click on this to automatically tweet:
About Zoe
Zoe is a critical reviewer. When she's not reviewing, you can find her performing in plays / musicals, doing gymnastics, or designing websites.