This tour is hosted by Xpresso Book Tours! You can follow the rest of the tour here. There's a chance to win a paperback copy at every stop!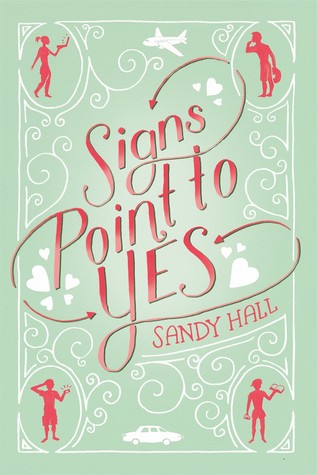 Signs Point to Yes


by Sandy Hall
published on October 20th 2015 by Swoon Reads
young adult | contemporary | lgbtqia+
find the book on
Goodreads | SwoonReads | Amazon | B&N
Jane, a superstitious fangirl, takes an anonymous babysitting job to avoid an unpaid internship with her college-obsessed mom. The only problem? She's babysitting the siblings of her childhood friend and new crush, Teo.
Teo doesn't dislike Jane, but his best friend Ravi hates her, and is determined to keep them apart. So Teo's pretty sure his plans for a peaceful summer are shot. His only hope is that his intermittent search for his birth father will finally pan out and he'll find a new, less awkward home. Meanwhile, at Jane's house, her sister Margo wants to come out as bisexual, but she's terrified of how her parents will react.
In a summer filled with secrets and questions, even Jane's Magic 8 ball can't give them clear answers, but Signs Point to Yes.
Fans of John Green and Adi Alsaid will want to get their paws on Signs Point to Yes, with its quirky characters and witty-in-an-awkward-way writing.
Personally, I'm not really a fan of said writing style, and that was the main thing that stopped me from fully enjoying this book. There were times when the dialogue was just too stiff and unnatural–and so were the characters in general. They just had this really rough flow that made me awkward as a reader.
Despite that, I can say that the characters all had pretty distinct personalities. They may have made some pretty idiotic, questionable and shallow decisions at one point, but at least each character shone, which is a fantastic thing, considering this book is written from three different points of view.
First of all, we have Jane, who's a sarcastic and insecure fangirl. I found myself really enjoying her chapters, since I could really empathize with her character. She's incredibly passionate about her fandoms (like us!) and feels pretty lame compared to her older sister, the family favorite. I'm sure many readers will be able to relate to her and enjoy her witty voice.
Then we have Teo–holy crap, this guy is just adorable. He's sweet, awkward, and adores his three sisters–total dream-guy material. He doesn't make the best choices all the time, but he manages to accept his mistakes and learn from them.
Margo, Jane's older sister, is the third narrator. She's bisexual, and I honestly couldn't see the point of her POV. She didn't really add anything to the story, and it felt like her struggle to come out was just there for added drama, and served no real purpose.
Character relationships were pretty spot-on, though. We have a nicely paced romance between Jane and Teo, which is basically represented by this math equation:
Awkward + Awkward = Adorableness!
The family relationships were wonderful as well, which is not something that's always a big deal in YA. It was nice seeing how close Jane and Margo were, and the same goes for Teo and his three younger brothers.
Teo also had an awesome friendship with his best friend Ravi. Their relationship showed how, no matter how asshole-y your best friend can be, you'll still stick by them… After you tell them that they're an asshole. (Although I kind of hated Ravi as a character. He was just too quirky and unnatural for my liking.)
Overall, I'd recommend this for anyone looking for a quick, cute contemporary read! It may not be the perfect book, but it'll be enough to bring smiles to your faces on a rainy day.
3 stars
I'm a teen librarian from New Jersey where I was born and raised. I have a BA in Communication and a Master of Library and Information Science from Rutgers University. When I'm not writing, or teen librarian-ing, I enjoy reading, slot machines, marathoning TV shows, and long scrolls through Tumblr. A LITTLE SOMETHING DIFFERENT is my first novel.
This giveaway is open to readers from the US only–sorry, international friends!
one (1) winner will win a print copy of Signs Point to Yes!
Have you read The Weight of Feathers? If not, is it on your wishlist? Thoughts on the interview?
About Aimee
Aimee loves being a little bookworm (okay–she doesn't like being little). She also loves chocolates and sweets but is freaked out by the thought of possibly getting diabetes.