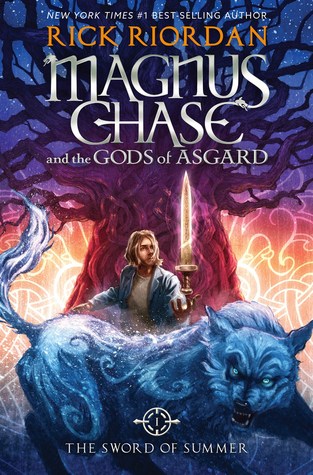 Magnus Chase has always been a troubled kid. Since his mother's mysterious death, he's lived alone on the streets of Boston, surviving by his wits, keeping one step ahead of the police and the truant officers.
One day, he's tracked down by a man he's never met—a man his mother claimed was dangerous. The man tells him an impossible secret: Magnus is the son of a Norse god.
The Viking myths are true. The gods of Asgard are preparing for war. Trolls, giants and worse monsters are stirring for doomsday. To prevent Ragnarok, Magnus must search the Nine Worlds for a weapon that has been lost for thousands of years.
When an attack by fire giants forces him to choose between his own safety and the lives of hundreds of innocents, Magnus makes a fatal decision.
Sometimes, the only way to start a new life is to die…
[PLOT] typical | 
not quite there yet
 | cute | unique | kicks serious ass | what's going on?!
[PACING] snail's pace | slow |
just right
 | fast | holy crap just stop
[DIVERSITY] none :sadface: | some (minor characters) | LGBTQ | mental health |
characters w/ disabilities
| racial |
religion
[ROMANCE] insta-love | realistically paced | slow-burn | love triangle | love square | I am confused |
none
| it's complicated
[FEELS] swoons | tears |
laughs 
| cries of frustration |
eye rolls
 | pukes | snores | screams of horror |
holy shit
s
[WRITING] flowery prose | 
conversational 
| choppy or cluttered | telling, no showing |
info dump-y
| simple
[ENDING] cliffhanger | open ending |
satisfactory 
| was that an ending? | want moarrr | didn't get far enough
[RECOMMENDED?] heck no | 
to select people
 | mostly | YAS
Guess who's a very grumpy camper? *points to self*
In my own little world, I've always told myself that Rick Riordan can do no wrong. Okay, fine, I sort of hated The Blood of Olympus, but The Sword of Summer was supposed to be a fresh start–it was supposed to be the book that would put Riordan back up on my mental pedestal.
Well, I've been fucking let down, Rick. I'm sorry (and sad) to have said that, but it's true. This book was just nowhere near the level of epicness I was expecting. Maybe it's because, after ten (eleven if you count Greek Gods) books of kick-butt Greek and Roman mythology, maybe I was just expecting too much.
The main thing that made it unenjoyable, at least for me, was its similarity to the original Percy Jackson and the Olympians books, maybe with a little bit of Harry Potter mixed in as well. Let's break it down, shall we?
"I did not want to be the harbinger of the wolf. I wanted to be the harbinger of ice cream, or falafel."
1.) Magnus's voice sounded exactly like Percy's. I mean, if you asked me to guess which lines were whose, I wouldn't be able to answer. I might've been okay with it if the sarcastic humor worked with the story, but somehow it didn't. There was just something a bit more… juvenile about the writing style, and it worked with 12 year-old Percy, but not 100% with 16 year-old Magnus.
2.) All the other characters were just so predictable. As with PJO, in The Sword of Summer, we're given a hot-headed female who's clearly the most mature in the group, some really quirky sidekicks and sassy villains. Notice that I said sidekicks and villains as plural nouns–that's because there're more than one of each, and they all have the same psyche.
3.) The plot was your typical Rick Riordan storyline. See, other than his mid-series cliffhangers, Rick's books mostly do just follow a formula plot. It hurts me to admit that, but yes, it does seem to be the case. You can practically guess the ending without even starting the book.
4.) The mythology twists? I call bullshit at the word "twists"–I wasn't surprised at all. We've got really obvious villains, which sucks because they were actually unexpected in the original PJO series. But with this? It's basically spoon-fed to us. SPOON-FED.
5.) This book felt horribly info-dumpy. I NEVER FELT THIS WAY ABOUT THE ORIGINAL PJO SERIES. I'm not even sure why I felt that way with this book… Maybe it's because most of the Norse mythology facts were just inserted (forcefully) into awkward dialogues in huge chunks, and I honestly had trouble following along. I CAN'T REMEMBER A THING, AND IT'S ONLY BEEN A DAY.
Phew. So glad I finally got that off my chest. Anyway, despite my ranting, this book wasn't horrible–there were still some quotes that made me chuckle (especially those lovely chapter headings that we all know and love), parts that made me immensely sad, and parts that made me root for the main characters. And, as usual, Rick's books are just so easy to read.
Oh, and bonus points for diversity! We have a Muslim demigod as our main heroine (I still don't understand how she's both a Muslim yet a server of the Norse gods), as well as an adorable deaf elf as one of Magnus's sidekicks.
And with this, I conclude that I did not love The Sword of Summer, but am hoping for a 200% energy boost for the sequel when it comes out. Please make it ten times better. Thanks.
About Aimee
Aimee loves being a little bookworm (okay–she doesn't like being little). She also loves chocolates and sweets but is freaked out by the thought of possibly getting diabetes.