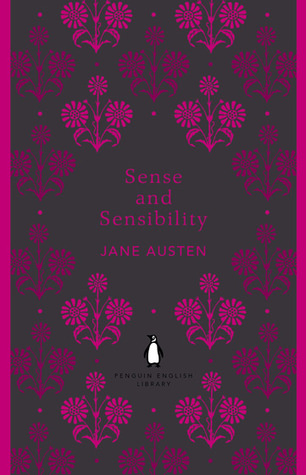 Sense and Sensibility


by Jane Austen
originally published in 1811 by Thomas Egerton
adult | historical | classic | romance | chick lit
find the book on
Goodreads
Marianne Dashwood wears her heart on her sleeve, and when she falls in love with the dashing but unsuitable John Willoughby she ignores her sister Elinor's warning that her impulsive behaviour leaves her open to gossip and innuendo. Meanwhile Elinor, always sensitive to social convention, is struggling to conceal her own romantic disappointment, even from those closest to her. Through their parallel experience of love—and its threatened loss—the sisters learn that sense must mix with sensibility if they are to find personal happiness in a society where status and money govern the rules of love.
[PLOT]
typical
| not quite there yet
| cute | unique | kicks serious ass | 
what's going on?!
[PACING] snail's pace | 
slow
|
just right 
| fast | holy crap just stop
[DIVERSITY] 
none :sadface:
| some (minor characters) | LGBTQ | mental health | racial | religion
[ROMANCE] 
insta-love 
| realistically paced | slow-burn | love triangle |
love square
| 
I am confused
| none | it's complicated
[FEELS] swoons | tears | laughs | 
cries of frustration
 |
eye rolls
 |
pukes
| snores | screams of horror |
holy shit
s
[WRITING]
 flowery prose
| conversational | choppy or cluttered | telling, no showing | info dump-y | simple
[ENDING] cliffhanger | open ending | satisfactory | was that an ending? | want moarrr |
didn't get far enough
[RECOMMENDED?]
heck no
| to select people | mostly | YAS
***Disclaimer: I only read until about 80-90 pages (which is a damn lot) then read the summary of the rest.
Normally I wouldn't review school reads because technically I've only been forced to read them, but I need to express my frustrations over Sense and Sensibility. So here are the top five reasons why I decided to give up on the book completely:
1.) The writing style was too flowery. And y'all know I hate flowery writing. Okay, fine, this book was written decades ago, and I probably should've picked up a more modern revision of it… But you get my point. It was just too much for my goldfish brain to handle.
2.) The characters made me want to tear their eyeballs off. I couldn't stand any of them–Marianne was way too assuming; Elinor was too cold; Willoughby was an ass; Colonel Brandon was a martyr… EVERYONE was just so bipolar and hot-and-cold. Yeah, no thanks. Get out of my sight, please.
3.) The story was too scripted and unnatural. You're probably going, But Aimee, this is a fictional book! And I'll say, Yes it is. But unrealistic contemporary novels can only go so far for me. There was a number of love triangles and even love squares that just didn't make any sense to me. Also, everyone keeps complaining about money but no one actually works in the book. What even!?
So yes, this book. I might still attempt reading a modern revision of Austen's some time in the future, but not anytime soon. My brain's still fried from even trying to read this one.
DNF
About Aimee
Aimee loves being a little bookworm (okay–she doesn't like being little). She also loves chocolates and sweets but is freaked out by the thought of possibly getting diabetes.