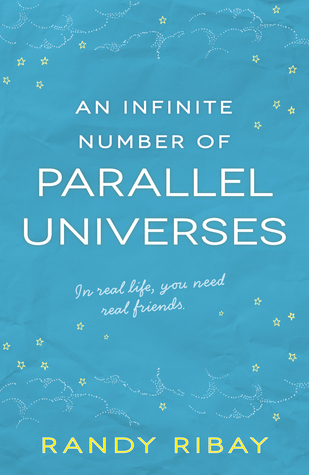 An Infinite Number of Parallel Universes


by Randy Ribay
to be published on October 16th 2015
to be published by Merit Press
young adult | contemporary | lgbtqia
find the book on
Goodreads
As their senior year approaches, four diverse friends joined by their weekly Dungeons & Dragons game struggle to figure out real life. Archie's trying to cope with the lingering effects of his parents' divorce, Mari's considering an opportunity to contact her biological mother, Dante's working up the courage to come out to his friends, and Sam's clinging to a failing relationship. The four eventually embark on a cross-country road trip in an attempt to solve–or to avoid–their problems.
1. I don't normally read multiple-POV books, but after Six of Crows, I'm hoping for more awesome books with this kind of narration!
2. I need to read more LGBTQIA books!
3. That cover is basically the cutest thing ever.
4. Dungeons & Dragons? I sense geekiness overload, which is a good thing, by the way.
5. Randy Ribay actually offered me an eARC, and he's super sweet.
PRE-ORDER AN INFINITE NUMBER OF PARALLEL UNIVERSES!
Thoughts on my pick? What are you waiting on this Wednesday?
About Aimee
Aimee loves being a little bookworm (okay–she doesn't like being little). She also loves chocolates and sweets but is freaked out by the thought of possibly getting diabetes.