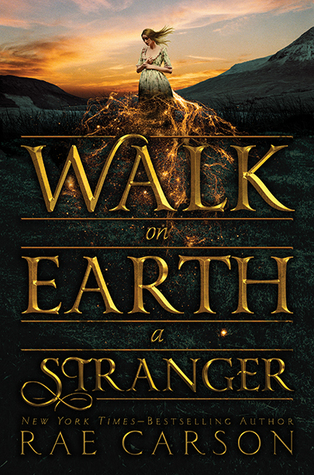 Walk on Earth a Stranger


by Rae Carson 
published on September 22nd, 2015 by Little, Brown, & Co.
young adult | western | historical | fantasy
find the book on
Goodreads
Gold is in my blood, in my breath, even in the flecks in my eyes.
Lee Westfall has a strong, loving family. She has a home she loves and a loyal steed. She has a best friend—who might want to be something more.
She also has a secret.
Lee can sense gold in the world around her. Veins deep in the earth. Small nuggets in a stream. Even gold dust caught underneath a fingernail. She has kept her family safe and able to buy provisions, even through the harshest winters. But what would someone do to control a girl with that kind of power? A person might murder for it.
When everything Lee holds dear is ripped away, she flees west to California—where gold has just been discovered. Perhaps this will be the one place a magical girl can be herself. If she survives the journey.
The acclaimed Rae Carson begins a sweeping new trilogy set in Gold Rush-era America, about a young woman with a powerful and dangerous gift.
While you're reading this, keep in mind that I really don't like Westerns or prairie stuff.  (And yes, I did read and enjoy Vengeance Road by Erin Bowman, even though I still think cowboy movies are boring.)
This was my first Rae Carson.  (Shockhorror!  Yes, my friends, I have yet to read Girl of Fire and Thorns because I am a terrible human.)  I definitely dig her writing style.  She writes with a pretty simplicity that pulls you into her world but doesn't scream, "Look at me!  Look how clever I am!"  Her dialogue is cheeky and fun, particularly between the main character and her adorable childhood friend, and is layered with just the right amount of twang and accent to paint a picture without making her readers choke on miner slang.
It's also damn well researched.  Not that I'm an expert on the Gold Rush, but from what wee recollections survived my days of American History classes, I can tell that Carson didn't skimp on the background reading.  Her meticulousness shows in her descriptions of clothing; in the attitudes of the characters towards black people and Native Americans; in the gender stereotypes and the religious fervor; and especially in the brutality of her characters' journey.  Remember Oregon Trail, the game?  Remember dying of dysentery and losing wagon wheels and drowning in rivers?  Carson is the Oprah of Death, serving out disaster to her poor minions at every step.  (You get a choleric infection!  You get trampled by buffalo!)
That was my favorite part, the brutality of it.  It's unexpected from a blurb that emphasizes the magical, and the start is so weirdly similar to Vengeance Road that I did a bit of a double take.  (Girl's family gets murdered for something related to a big ole haul o' gold.  Girl pretends to be boy and goes off in search of freedom/revenge/whatever.)  But they're patently different books.  Lee has a sense for gold, a magical scrying sense that some people would–and do–kill to possess.  Fortunately, Lee escapes west before she can be a prospector's puppet and finds herself on a wagon train to the promised land.  It's peopled with a textured cast of characters: the silent, dutiful wife; the overzealous preacher; the apple-cheeked Germans; the wizened mountain man; the out-of-place schoolmen; and of course, Jefferson, Lee's loyal, sweet childhood friend.  (Hint.  Hint.)  My list sounds like stereotypes, but Carson draws each of these characters with loving precision.  Their stories are as much at the heart of this book as Lee's, and Carson forces you to feel, truly feel their hopes and suffer their pains.
And that's the weird bit of it.  The whole gold sense thing really didn't come into play much.  Yeah, it got Lee out west and it comes up here and there, but otherwise it's basically a going-west story about a girl who, by the way, happens to have this magic thing.  I'm sure it'll come into play more in book 2, but it, and the villain, just seemed like clunky add-ons to what essentially is a harrowing tale of hopefuls charging their way to a new life through the bitter cruelties of the untempered wilds.  About perseverance, friendships (I loved the friendships formed between Lee and some of the women!), and survival.  It feels somewhat disjointed, because the fuss made over the gold sense in the beginning suggested a very different story.
But I kinda prefer the one I got.
About C.J.
I'm a font of useless knowledge and an endless source of sarcasm. Oh, and I guess I read, too.
Goodreads | Twitter | Facebook | Sarcasm&Lemons | all of C.J.'s posts →