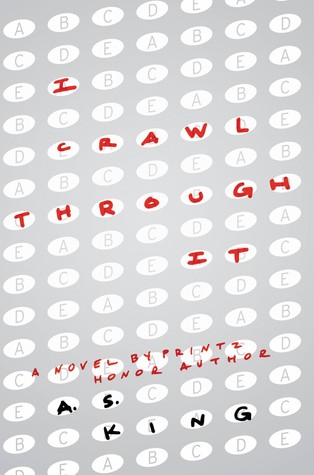 I Crawl Through It


by A.S. King
published on September 22nd, 2015 by Little, Brown, & Co.
young adult | surrealism | fantasy | tragedy
find the book on
Goodreads
Four talented teenagers are traumatized-coping with grief, surviving trauma, facing the anxiety of standardized tests and the neglect of self-absorbed adults—and they'll do anything to escape the pressure. They'll even build an invisible helicopter, to fly far away to a place where everyone will understand them… until they learn the only way to escape reality is to fly right into it.
You may hate this book.
You may love it.
From an author known for writing weird books with prophetic bats and reality TV stars, I Crawl Through It reaches new heights of bizarre-o.  First of all, the plot isn't exactly linear.  Second of all, the plot isn't exactly logical.  Third (of all?), there are invisible helicopters, magical utopias, and girls who swallow themselves and turn inside-out.  And poetry.
Are you listening?
It's a hard novel to get into, and it pulls heavily from a more MFA-type literary tradition that I think will be tough for readers of your average quirky contemporary to swallow.  This is acid magical surrealism out of some Dali-Palahniuk horror love child.  I thrive on the weird, and even for me, there were points where I just wasn't connecting with the story.  However, I stuck it out.  I didn't quite love it by the end, but I liked it, a lot.  It's the kind of book that would benefit from two, three, maybe ten re-readings.  It's poetry in prose.  A twisted painting that's felt rather than understood.  King's language is unfathomable amounts of gloriously raw, bold, and viciously pretty.  More than anything, it reminds me of  People of Paper by Salvador Plascenia, a disturbed fairy tale made of lime rinds, blacked-out text blocks, and a man who dissolves in the rain.
I realize I'm not telling you much about what it's, well, about.  It's so hard to say that.  It's about a boy who doesn't know how to feel emotions, who is building an invisible helicopter to fly to a magical place of geniuses living in perfect harmony.  It's about the girl who loves him, who dissects frogs (lots of frogs) and identifies with Mozart's wife, who trades kisses for letters from the exhibitionist in the bush down the street.  It's about the girl who swallows herself because her friends don't ask her what's on her insides, and the only way to get away from her insides is to make them her outsides.  It's about the girl who doesn't know who she is, so she lies herself a new life every day and sleeps with a new guy every night.  It's about parents who take vacations to mass shooting sites, bomb threats from no one (or everyone), and how to tell if your alternate universe is real.
It's about four teenagers (and some adults) who come to live inside you and take up space in your insides.
It's about tragedy, and loss, and being a teenager, and how effed up it is dealing with all that shit, and how the only way you can deal with it is to sublimate it into something dark and strange and violently beautiful.
It's a book you have to discover for yourself.
And maybe I really do love it.  
Somewhere in every idea there is a hole that fits an unbent paper clip.

You just have to find it.

Reset. Reset. Reset.
About C.J.
I'm a font of useless knowledge and an endless source of sarcasm. Oh, and I guess I read, too.
Goodreads | Twitter | Facebook | Sarcasm&Lemons | all of C.J.'s posts →