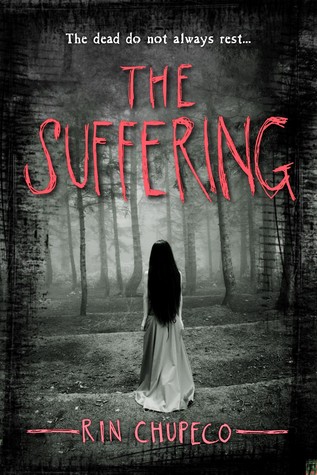 The Suffering


by Rin Chupeco
The Girl From the Well, #2
published on September 8th 2015 by Sourcebooks
young adult | horror | fantasy
find the book on
Goodreads
It's been two years since Tark Halloway's nightmare ended. Free from the evil spirit that haunted him all his life, he now aids the ghostly Okiku and avenges the souls of innocent children by hunting down their murderers. But when Okiku becomes responsible for a death at his high school, Tark begins to wonder if they're no better than the killers they seek out.
When an old friend disappears in Aokigahara, Japan's infamous 'suicide forest', both must resolve their differences and return to that country of secrets to find her.
Because there is a strange village inside Aokigahara, a village people claim does not exist. A village where strange things lie waiting.
A village with old ghosts and an ancient evil – one that may be stronger than even Okiku…
[PLOT] typical | not quite there yet
| cute |
unique 
| 
kicks serious ass
| what's going on?!
[PACING] snail's pace | slow |
just right
| fast | holy crap just stop
[DIVERSITY] none :sadface: | some (minor characters) | LGBTQ | mental health | 
racial
| religion
[ROMANCE] insta-love | realistically paced | slow-burn | love triangle | love square | 
I am confused
| none |
it's complicated
[FEELS]
swoons 
| 
tears 
| laughs | cries of frustration | eye rolls | pukes | snores |
screams of horror
[WRITING] flowery prose | 
conversational 
|
choppy or cluttered
| telling, no showing | info dump-y
[ENDING] cliffhanger | open ending |
satisfactory 
| was that an ending? |
still want moarrr
[RECOMMENDED?] heck no | to select people | mostly | 
YAS
I received a digital advanced reader's copy of this book from Sourcebooks for review. This did not affect my review in any way. Quotes are taken from the uncorrected proof and might be changed in the final version.
I don't think I've ever read a horror book that affected me as much as The Suffering did.
Jesus Christ, I swear I was on the verge of peeing my pants in sheer horror and thrill. Chupeco maintained the epic, horrific descriptions from the first book, and you're going to imagine every. Single. Detail. It's gore-y, it's scary as fuck, and it's delicious. I mean, come on–it's a JAPANESE HORROR STORY. Talk about epic. My heartbeat LEGITIMATELY sped up along with Tark's–okay, maybe even twice as often as his. The Suffering was that scary.
Not only were the descriptions spot-on, but also the plot itself. We're brought back Japan, this time deep within the Suicide Forest, where a hidden town is the subject of a current investigation. This book sort of stood as the main story for me, while the first book was, in a way, a backstory. The Suffering had an INTENSE mystery, one that'll keep you on the edge of your seat–but no matter how hard you clutch the seat, you're going to fall off. And by fall off, I mean you'll get your ass scared off no matter what.
Characterization was another aspect Chupeco excelled in perfecting. Tark was so easy to root for, being both hilarious, realistic and serious at the same time. But the best thing was that when he loves, he loves wholly… Dear Lord, my feels. ANYWAY, Okiku was her usual badass, killing machine self, but with much more feelings than in the first book.
And Chupeco did an amazing job feels-wise, too! I totally bawled my eyeballs out during some scenes–yep. This is not a drill! A TERRIFYING horror book made me cry to the point that my face hurt. I can't give too much away without spoiling the book, but let's just say there were scenes where y'all won't be able to help it… The tears will just flow naturally, believe me.
*I would like to dedicate a short sentence for the romance which I can't explain without spoiling but OMG it's so realistic and beautiful and complicated and asdfghjkl–gah.
Fans of horror, you need The Suffering in your lives. Horror newbies, you need The Suffering in your lives. Readers of all genres, you need The Suffering in your lives. HUMANS, ALIENS AND SPIRITS ALIKE, YOU NEED THE SUFFERING IN YOUR LIVES.
About Aimee
Aimee loves being a little bookworm (okay–she doesn't like being little). She also loves chocolates and sweets but is freaked out by the thought of possibly getting diabetes.