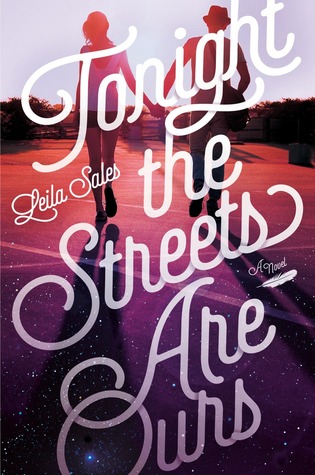 Tonight the Streets Are Ours


by Leila Sales
published on September 15th 2015 by Farrar, Straus and Giroux (BYR)
young adult | contemporary | romance
find the book on
Goodreads
Seventeen-year-old Arden Huntley is recklessly loyal. Taking care of her loved ones is what gives Arden purpose in her life and makes her feel like she matters. But she's tired of being loyal to people who don't appreciate her—including her needy best friend and her absent mom.
Arden finds comfort in a blog she stumbles upon called "Tonight the Streets Are Ours," the musings of a young New York City writer named Peter. When Peter is dumped by the girlfriend he blogs about, Arden decides to take a road trip to see him.
During one crazy night out in NYC filled with parties, dancing, and music—the type of night when anything can happen, and nearly everything does—Arden discovers that Peter isn't exactly who she thought he was. And maybe she isn't exactly who she thought she was, either.
[PLOT] typical | not quite there yet
| cute | unique | kicks serious ass | 
what's going on?!
[PACING] snail's pace | slow |
just right
 | fast | holy crap just stop
[DIVERSITY]
none :sadface:
| some (minor characters) | LGBTQ | mental health | racial | religion
[ROMANCE] insta-love | realistically paced | slow-burn | love triangle | love square | 
I am confused
| none
[FEELS] swoons | tears | laughs | 
cries of frustration 
|
eye rolls 
|
pukes
| snores
[WRITING] flowery prose | 
conversational 
| choppy or cluttered | telling, no showing | info dump-y
[ENDING] cliffhanger | 
open ending
| satisfactory | was that an ending?
[RECOMMENDED?] heck no | 
to select people 
| mostly | YAS
I received a print advanced reader's copy of this book from MacMillan for review. This did not affect my review in any way. Quotes are taken from the uncorrected proof and might be changed in the final version.
I don't think I've ever been as conflicted about a book as I am with Tonight the Streets Are Ours. Objectively, it's one of the best books I've ever read. On the other hand, subjectively, I just want to flush it down the toilet.
Now you're probably thinking something along the lines of:
Let me explain, fellow booknerds. This book is realistic–but it brings out the negativity of the world we live in. So while I appreciated the idea of the book, I couldn't really enjoy it. So I guess while I'm rating this based on my feelings, I'll be talking about it both objectively and subjectively.
Let's start with where everything began–the main character, Arden. Compared to the other characters, she's actually quite alright. She's played as the typical "good friend" who's always there for everyone. She has her ups and downs. A bit lackluster, but pretty decent, if you ask me.
BUT LET'S TALK ABOUT HER BEST FRIEND, LINDSEY. Now this one right here's a real freeloader–all take and no give. Every time she opened her mouth to say ANYTHING, I was cringing on the inside. What's worse is that she doesn't know how to say thank you and has to pick a fight to prove a senseless point. Despite that, she's a really truthful character–I'd bet my right arm that there are many of us like her.
And then we have Peter. The only thing I have to say to him? Fuck you, asshole! Just… what an absolute prick. I can't explain this further without spoiling the book, but I seriously need to rid my brain of any thoughts of him.
The actual story's not-so-great, actually. It's pretty unrealistic, at least for me. I can't picture a girl my age randomly driving out for hours (WITHOUT PERMISSION) to a place she's unfamiliar with to meet up with a blogger who she's never met before. The writing made it even harder for me to get into, since it was sort of a third flowery, a third conversational, and a third simple, which just didn't blend well with the story.
This book does feature some pretty legit life lessons, but they were explicitly stated most of the time and were just so in-your-face. I think I've mentioned before that I HATE inspirational stuff when they're shoved into your line of sight. I prefer my life lessons served on a silver COVERED platter, thank you very much. I'm weird like that.
I REST MY CASE.
About Aimee
Aimee loves being a little bookworm (okay–she doesn't like being little). She also loves chocolates and sweets but is freaked out by the thought of possibly getting diabetes.