Not only am I a fabulous blogging unicorn… But I'm also a fabulous blogging villain unicorn! Gosh I'm awesome.
Because I love you guys (and because Rachel of Penguin Teen is too sweet to say no to), today, I'm going to share with you my villain identity. Just promise you won't spread my secrets.
MEET CRIMSON HORROR!

You all know me as tiny, inferior Aimee. Well, think again! I am Crimson Horror, one with the power to throw books at people in an extreme speed. It'll make enemies both dizzy and give them lots of bruises… Because hardcovers are tough, y'all.
And yes, my badass villain name has nothing to do with me or my super power.
MY BAD-ASS VILLAIN SQUAD
*If I've added you to this list, consider yourself tagged to do your own villain identity (you don't have to use the names I dubbed you guys with!) post!
And yes, I do apologize for the sucky names I'm going to give you guys. My brain = currently not functional!
Obviously, my co-bloggers here, on The Social Potato and The Book Geek would be the first people I force into slavery pick for my team. Let's do this. In no particular order:
1. CAIT "Comical Cait," blogger at Paper Fury: Obviously, we're going to need her kick-ass humor to distract people when we're looking for a good escape route. Also, we need her in case we get bored.
2. SIIRI "Master Fangirl," blogger at Little Pieces of Imagination and Fizzle Reads: Her extreme fangirl skills are bound to make our enemies dizzy.
3. LARISSA "Captivating Queen," previously a blogger at YA Midnight Reads & JESS "Eloquent Angel," blogger at My Reading Dress: These two will make opponents feel inferior to their great minds.
4. ELLA "Cutie Pie Slayer," blogger at The Filipina Booknote: Her super adorable looks and bubbly personality will blind any foe!
5. PILI "Captain Cupcake," blogger at In Love With Handmade: She'll make us delicious evil cupcakes when we're hungry. ;)
6. PERCY JACKSON, character from Percy Jackson and the Olympians: I doubt I can ever convert Percy into a villain, but if I can… His loyalty and occasional skill will definitely be assets.
7. ZE'EV "Wolf" KESLEY, character from The Lunar Chronicles: 1.) He's adorable; and 2.) He kicks serious ass.
8. FEYRE, character from A Court of Thorns and Roses: Feyre's loyal, sassy, fierce, and 100% badass. Also she can paint our "Help Wanted: Awesome Supervillains" posters.
9. DANIEL "Day" WING, character from Legend: This guy's a genius AND the most wanted criminal. SCORE.
10. PRINCE MAXON, character from The Selection: Because I'm going to need someone to sacrifice at one point. I never liked this guy anyway.
THE BOOK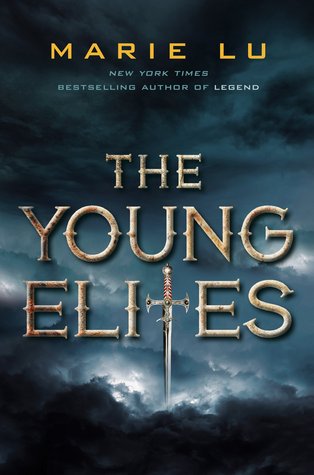 Adelina Amouteru is a survivor of the blood fever. A decade ago, the deadly illness swept through her nation. Most of the infected perished, while many of the children who survived were left with strange markings. Adelina's black hair turned silver, her lashes went pale, and now she has only a jagged scar where her left eye once was. Her cruel father believes she is a malfetto, an abomination, ruining their family's good name and standing in the way of their fortune. But some of the fever's survivors are rumored to possess more than just scars—they are believed to have mysterious and powerful gifts, and though their identities remain secret, they have come to be called the Young Elites.
Teren Santoro works for the king. As Leader of the Inquisition Axis, it is his job to seek out the Young Elites, to destroy them before they destroy the nation. He believes the Young Elites to be dangerous and vengeful, but it's Teren who may possess the darkest secret of all.
Enzo Valenciano is a member of the Dagger Society. This secret sect of Young Elites seeks out others like them before the Inquisition Axis can. But when the Daggers find Adelina, they discover someone with powers like they've never seen.
Adelina wants to believe Enzo is on her side, and that Teren is the true enemy. But the lives of these three will collide in unexpected ways, as each fights a very different and personal battle. But of one thing they are all certain: Adelina has abilities that shouldn't belong in this world. A vengeful blackness in her heart. And a desire to destroy all who dare to cross her.
…
GIVEAWAY
Adelina Amouteru's heart has suffered at the hands of both family and friends, turning her down the bitter path of revenge. Now known and feared as the White Wolf, she and her sister flee Kenettra to find other Young Elites in the hopes of building her own army of allies. Her goal: to strike down the Inquisition Axis, the white-cloaked soldiers that murdered her love, the Crown Prince Enzo Valenciano.
But Adelina is no heroine. Her powers, fed only by fear and hate, have started to grow beyond her control. She does not trust her newfound Elite friends. Teren Santoro, leader of the Inquisition, wants her dead. And her former friends, Raffaele and the Dagger Society, want to stop her thirst for vengeance. Adelina struggles to cling to the good within her. But how can someone be good, when her very existence depends on darkness?
…
Now, my dear victims blog readers, you can win an ARC of The Rose Society, the sequel to The Young Elites! US only–sorry, international friends.
Thoughts on my villain identity? How about my supervillain squad?
About Aimee
Aimee loves being a little bookworm (okay–she doesn't like being little). She also loves chocolates and sweets but is freaked out by the thought of possibly getting diabetes.
Goodreads | Twitter | Instagram | all of Aimee's posts →istie a bo