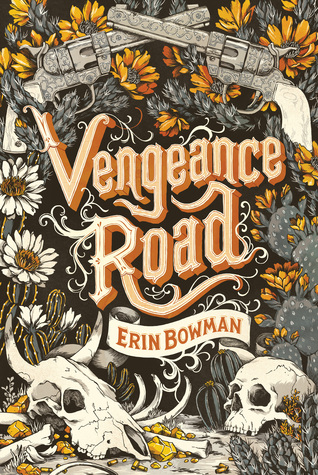 Vengeance Road


by Erin Bowman
published on September 1st 2015 by HMH Books for Young Readers
young adult | historical | Western | romance
find the book on
Goodreads
When Kate Thompson's father is killed by the notorious Rose Riders for a mysterious journal that reveals the secret location of a gold mine, the eighteen-year-old disguises herself as a boy and takes to the gritty plains looking for answers and justice. What she finds are devious strangers, dust storms, and a pair of brothers who refuse to quit riding in her shadow. But as Kate gets closer to the secrets about her family, she gets closer to the truth about herself and must decide if there's room for love in a heart full of hate.
I received a free digital copy of this book from Harlequin Teen for review. This did not affect my review in any way.
Vengeance Road is pure blood and grit. This may sound like a cutesy I-wanted-revenge-but-now-I-just-want-you romance based on the synopsis (and were you thinking, Love triangle alert! like I was?), but this book is just full of badassness and kickassery. It's all about revenge, murder, and deception… with a hint of romance.
The action scenes, in particular, were superb. I have huge admiration for authors who don't shy away from all the blood and gore–in which Erin Bowman excelled in doing. She wasn't afraid to kill off characters need it be. I also liked how the characters in this book weren't particularly moral–they were the "shoot now, apologize later" types, which I totally applaud.
Kate Thompson was a sassy but totally respectable character, although I didn't have any strong feelings towards her. I liked her enough most of the time, but there were some parts where I couldn't care less and might've even been slightly annoyed. I have a feeling most readers will love her cheeky attitude.
While Kate's repetitive thoughts on revenge may have slightly bothered me, the actual plot made up for it. I'm one of those readers who enjoy characters going on long journeys and discover shit along the way, which is just what Vengeance Road gave me.
Oh! And I totally loved the dialect, too. I'm a huge fan of those historical books where the narrator uses old-school English with weird grammar. It definitely built up the mood of the whole book for me.
Since I mentioned the main aspects of the book being favorites mine, we can finally go on to discuss my qualms. *clears throat*
I didn't like the romance. OKAY, WAIT, STOP RIGHT THERE. Put your tomatoes aside for now, please.
I know I mentioned on Twitter how I wanted my ship to kiss so bad, and I did. For about the first half of the book. After a while, the love interest's hot-and-cold attitude (by hot-and-cold, I mean sometimes he was shy and sweet, then oddly flirty, then occasionally an ass) made me stop giving a crap. I was just nodding my head and not really caring if they got together or not.
So that's two things I didn't like about the book. There's also the fact that there were a tad too many stereotypical tropes and characters, such as the portrayal of the Indians and the random-man-who-lives-in-the-middle-of-nowhere. It's mostly understandable, though, since we don't really have a wide selection of YA Westerns… yet. Also, they'll probably go unnoticed since they aren't really the main main characters.
But back to the positives! I really loved the ending as well. It was the kind that made you go, "Whaaaa?!" while possibly jumping off your chair and pointing an accusing finger at the book. It was definitely shocking, even if it was sort of abrupt.
Vengeance Road is a book with backbone, recommended for anyone looking for a spunky heroine, lots of action and a hint of romance.
About Aimee
Aimee loves being a little bookworm (okay–she doesn't like being little). She also loves chocolates and sweets but is freaked out by the thought of possibly getting diabetes.