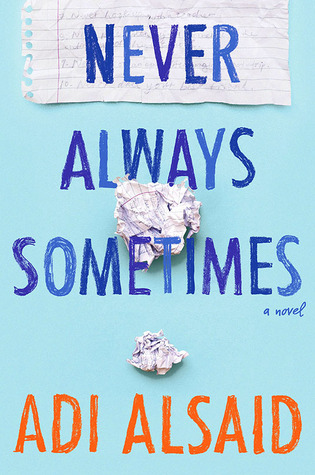 Never Always Sometimes


by Adi Alsaid
published on August 4th 2015 by Harlequin Teen
young adult | contemporary | romance
find the book on
Goodreads
Best friends Dave and Julia were determined to never be cliché high school kids—the ones who sit at the same lunch table every day, dissecting the drama from homeroom and plotting their campaigns for prom king and queen. They even wrote their own Never List of everything they vowed they'd never, ever do in high school.
Some of the rules have been easy to follow, like #5, never die your hair a color of the rainbow, or #7, never hook up with a teacher. But Dave has a secret: he's broken rule #8, never pine silently after someone for the entirety of high school. It's either that or break rule #10, never date your best friend. Dave has loved Julia for as long as he can remember.
Julia is beautiful, wild and impetuous. So when she suggests they do every Never on the list, Dave is happy to play along. He even dyes his hair an unfortunate shade of green. It starts as a joke, but then a funny thing happens: Dave and Julia discover that by skipping the clichés, they've actually been missing out on high school. And maybe even on love.
I received a free digital copy of this book from Harlequin Teen for review. This did not affect my review in any way.
Words cannot properly express the annoyance and frustration I felt after finishing this book. I actually felt the same way towards the the end of the Paper Towns movie (I haven't read the book yet–as if the whole story was all for nothing. It wasn't a pointless book, per se, but I definitely think the end lacked proper closure and will probably leave a lot of readers unsatisfied. Maybe even pissed if you're oddly emotional like me.
I think the main reason I couldn't feel the book was because I didn't like the writing style. At all. The book was written in a very John Green-esque fashion–flowery writing, teens who think deep thoughts and all that jazz. Maybe it's because I'm a shallow reader, but the characters were driving me crazy, and not in a good way, either.
The main characters were way too "eccentric" to be realistic, and that made it so hard for me to relate for them. It sucks that I should be able to do that, being in high school and all, but instead I felt like throwing rocks at their heads throughout majority of the book! Call me a warfreak, but it's true.
Dave, if we're being honest, is an ass. I can't tell you why without spoiling the book, but yes, an ass. A big one. I legitimately want to slice his head clean open. Morbid, I know.
But the main problem lies with Julia. Julia, the manic pixie dream girl. Let me list down some of the many problems I had with her:
a) She's such an elitist. She felt like all the "regular" people who did "normal" teenager things were way down below her. She felt like she was up on a fucking pedestal and that they didn't deserve her attention.
b) She's manipulative. I honestly felt like she was just playing around with Dave's emotions. I don't like him either, but Julia didn't have any right to do that, especially since they're best friends.
c) She's hot-and-cold. This sort of goes with reason b). Julia sometimes acts like the perfect best friend, while sometimes she's sort of missing.
I appreciate that Adi Alsaid tried to go against what was expected of the book, but the ending made no sense. I was kind of like, "Whoa whoa whoa! Hold up. What the heck is going on?!" And yes, I guess in a way I sort of felt cheated with the way things ended. Like I said, it just didn't make sense.
Overall, definitely not my kind of book. I just couldn't deal with the emotional stress this book gave me.
About Aimee
Aimee loves being a little bookworm (okay–she doesn't like being little). She also loves chocolates and sweets but is freaked out by the thought of possibly getting diabetes.