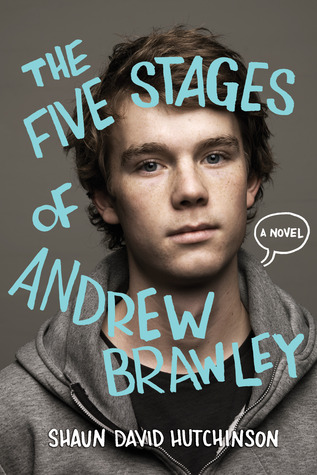 The Five Stages of Andrew Brawley


by Shaun David Hutchinson
The Five Stages of Andrew Brawley
published on January 20th, 2015 by Simon Pulse
young adult | contemporary | romance | lgbt | loss
find the book on
Goodreads
Andrew Brawley was supposed to die that night. His parents did, and so did his sister, but he survived.
Now he lives in the hospital. He serves food in the cafeteria, he hangs out with the nurses, and he sleeps in a forgotten supply closet. Drew blends in to near invisibility, hiding from his past, his guilt, and those who are trying to find him.
Then one night Rusty is wheeled into the ER, burned on half his body by hateful classmates. His agony calls out to Drew like a beacon, pulling them both together through all their pain and grief. In Rusty, Drew sees hope, happiness, and a future for both of them. A future outside the hospital, and away from their pasts.
But Drew knows that life is never that simple. Death roams the hospital, searching for Drew, and now Rusty. Drew lost his family, but he refuses to lose Rusty, too, so he's determined to make things right. He's determined to bargain, and to settle his debts once and for all.
But Death is not easily placated, and Drew's life will have to get worse before there is any chance for things to get better.
A partly graphic novel.
I was intrigued by the concept of this lonely kid living in the hospital by himself, outrunning Death and making friends.  What really got me to read it, though, was the fact that it is partially a graphic novel.  
I LOVED the graphic novel. Andrew envisions this character called Patient F, a superhero, sort of antihero, who's been experimented on and who slips through space and time.  His segments were beautifully drawn and really compelling.  They also helped to explain some of Andrew's psyche.
I LOVED the uncertainty. Hutchinson teases you over some of your questions.  Is Miss Michelle really Death?  The whole time, you're unsure whether it's an actual supernatural occurrence, or whether Andrew is mentally unstable, or just really sad and dramatic.  I liked the mystery.
I LIKED the characters. Andrew was pretty cool.  I didn't fall in love with him, but I did find him very sympathetic, and his voice was clear and compelling.  Rusty was a bit obscure, but I could also imagine him as a very real person.  Overall, I think the characters were a little thin, but still believable.  I did love Miss Michelle, even though she's a smaller focus.
I LIKED the friendship dynamics.  Andrew and Rusty have a tortured relationship–as one might imagine occurring between a burn victim and the boy sneaking into his bedroom at night.  What I loved was the realism.  They become friends, they develop feelings, and when Andrew does something terrible, Rusty calls him on it and isn't all ITSOKAYBECAUSEILURVEYOU.
I DISLIKED the plot holes.  So, you're telling me that this teenager has been living in the hospital, unnoticed, for like a year or so?  Even though he has a cafeteria job?  No one ever thought to run his background or bumped into him in the middle of the night?  Really?
It was cute, overall, but not as compelling as I'd hoped.
…
About C.J.
I'm a font of useless knowledge and an endless source of sarcasm. Oh, and I guess I read, too.
Goodreads | Twitter | Facebook | Blog | all of C.J.'s posts →