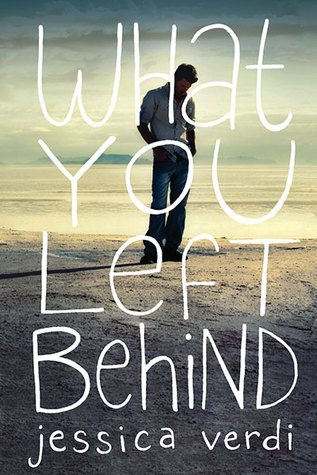 What You Left Behind


by Jessica Verdi
published on August 4th 2015 by Sourcebooks
young adult | contemporary | romance
find the book on
Goodreads
It's all Ryden's fault. If he hadn't gotten Meg pregnant, she would have never stopped her chemo treatments and would still be alive. Instead, he's failing fatherhood one dirty diaper at a time. And it's not like he's had time to grieve while struggling to care for their infant daughter, start his senior year, and earn the soccer scholarship he needs to go to college.
The one person who makes Ryden feel like his old self is Joni. She's fun and energetic—and doesn't know he has a baby. But the more time they spend together, the harder it becomes to keep his two worlds separate. Finding one of Meg's journals only stirs up old emotions, and Ryden's convinced Meg left other notebooks for him to find, some message to help his new life make sense. But how is he going to have a future if he can't let go of the past?
I received a free print copy of this book from Sourcebooks for review. This did not affect my review in any way.
Ladies and gents, I am speechless. What You Left Behind was so good that it knocked the socks off everyone within a 5-meter radius of it. I'm pretty sure my pet unicorn lost his socks, too.
I'm not sure if my review will justify how awesome this book was, but let me give it a shot. *deep breath*
First off, we have one of the most realistic male narrators I've ever come across. Goodbye, annoying heroes who think about sex for 3/4 of the book! Sayonara, guys who insert a curse word in every sentence they say. Adios, brooding, abusive assholes with troubled pasts! And hello, Ryden Brooks!
Ryden acts like a normal teen would–he's stubborn, confused, and kind of just there without making a huge deal out of everything. Weird or not, I kind of appreciated how his entire life didn't revolve around his kid. Verdi took a risk showing us that yes, children are precious and need attention, but to some people, they aren't everything. It's not an ideal situation, but it's truthful and it happens.
Verdi manages to make the story both realistic and emotionally investing. I felt all sorts of things, ranging from ohmigosh dying of shippy feels! to nooo! (in a good, please-don't-do-that-I-beg-you kind of way) and everything in between. Yes, I did rage–but for the right reasons. And yes, I cried both happy and sad tears. Maybe even at the same time…
The romance definitely had an impact on this. The romance between Ryden and Joni was perfectly sweet, with a touch of angsty, which you guys know I adore in my books. It was paced perfectly–not too slow-burn that you just want to pull your hair out because of all the sexual frustration, or quick that you'd get grossed out. It's smack-dab in the middle. I also loved Joni's feelings towards Ryden being a teen dad–again, not ideal, but very realistic. I would probably have acted the same way in her shoes.
Another thing I have to mention is how much I adored the presence of family in this book. Ryden's mom was gloriously supportive and loving. She was the kind of mom you wish you'd be. Joni's family didn't play a huge part in the book, but you could easily see how much they respected and cared for her even in those little scenes with them that we're shown.
Can I also give bonus points for Verdi having a gorgeous Korean side character named Aimee? I am expecting more gorgeous Aimees in future books.
My unicorn Percy says go forth and read the book! Or else he won't shit any rainbows for you.
About Aimee
Aimee loves being a little bookworm (okay–she doesn't like being little). She also loves chocolates and sweets but is freaked out by the thought of possibly getting diabetes.