We link to Stacking the Shelves (hosted by Tynga's Reviews), Bought, Borrowed & Bagged (hosted by Talk Supe Blog), The Sunday Post (hosted by Caffeinated Reviewer) and Latte Nights Obsessions (hosted by Latte Nights Reviews).
C.J. here!
It's been crazy since I last checked in with y'all.  I scheduled my dissertation proposal defense (OMG I'M GONNA BE HALF A REAL PERSON SOON), went to an awesome wedding at the Motherland, went to a multiphasic birthday party during which I rolled down a hill and bruised the crap out of my hip, and briefly was convinced I had cancer (it was just random bruising. Pretty sure the doctor thinks I'm crazy).  I also went back to work on my WIP, which has been with me for 16 years and counting.  It's way better than it was 16 years ago, at least.
I wish I had more interesting things to report on.  Grad student life is pretty rote.  Sleep.  Go to the office.  Sleep.  Go to a different office.  Sleep.  Play with the adorable kitty cat who lives in my apartment.  Briefly check out Tinder.  Get scared and avoid Tinder.  Karaoke "Lithium" with a near-stranger.  I did, though, have the pleasure of meeting up with Anya from On Starships and Dragonwings, who happens to go to the same school!!!  So yeah, if you need a psychology or computer science consult, hit us up.  ;)
current obsessions
How did I only just start watching Orange is the New Black?  It's everything I love!  Prison drama, regular drama, black humor.  I think I'm on the third season now, maybe.  Everyone in it is just such a terrible but also good person.  (And if you're curious, the book that started it all is on sale today).
I'm also on a smoothie-making kick.  Do you know how easy it is to hide vegetables with some orange juice?  Kale has never tasted better.  It also helps because I'm sort of trying to be a vegetarian most of the time, although now that I'm saying that, it could have something to do with all the bruising…  Ah, the important questions in life!
Nirvana!  Oh, wait.  That's all the time.
this week's stack of pretties (links lead to Goodreads)
BOUGHT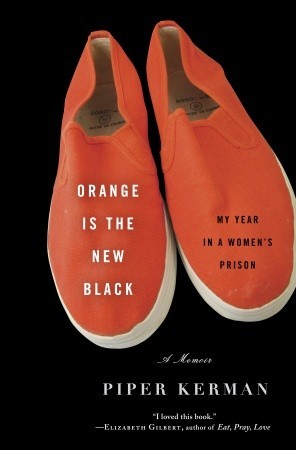 Deerskin by Robin McKinley | Blood Meridian by Cormac McCarthy | Orange is the New Black by Piper Kerman
Modern Romance by Aziz Ansari | The Red Garden by Alice Hoffman | Sleepwalkers by Christopher Clark
Some Boys by Patty Blount | Tampa by Alyssa Nutting | The Book of You by Claire Kendall
This was a pretty slow week for book buying, so I'll just list the ones I've gotten since we've last chatted.  Apparently I've been feeling all adulty.  Still, they're mostly all digital.  I still have so many ARCs on my to-do list that it's hard to justify buying new books–except for all the pre-orders, which just haven't come in yet.  If you're still on the fairy tale kick from Tuesday, check out Deerskin by Robin McKinley.  It was recommended to me by Betsy Cornwell, so you know it's good.
posts from us that you might have missed
fabulous posts from the blogosphere that you must check out
How did your week go? Any new books added to your TBR piles?
About C.J.
I'm a font of useless knowledge and an endless source of sarcasm. Oh, and I guess I read, too.