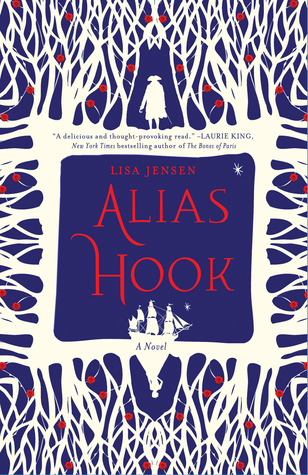 Alias Hook


by Lisa Jensen
published on July 8th 2014 by Thomas Dunne Books
adult | retelling | fantasy | romance
find the book on
Goodreads
Meet Captain James Benjamin Hook, a witty, educated Restoration-era privateer cursed to play villain to a pack of malicious little boys in a pointless war that never ends. But everything changes when Stella Parrish, a forbidden grown woman, dreams her way to the Neverland in defiance of Pan's rules. From the glamour of the Fairy Revels, to the secret ceremonies of the First Tribes, to the mysterious underwater temple beneath the Mermaid Lagoon, the magical forces of the Neverland open up for Stella as they never have for Hook. And in the pirate captain himself, she begins to see someone far more complex than the storybook villain.
With Stella's knowledge of folk and fairy tales, she might be Hook's last chance for redemption and release if they can break his curse before Pan and his warrior boys hunt her down and drag Hook back to their neverending game. Alias Hook by Lisa Jensen is a beautifully and romantically written adult fairy tale.
I received a free print copy of this book from Thomas Dunne for review. This did not affect my review in any way.
Have you ever wondered what the fuck happened to Captain Hook after the crocodile ate him? You'll find out when you read Alias Hook. But let me tease you a bit–Hook doesn't die…
We all know Hook as that little fucker who likes to ruin all the fun. But if there's one thing that'll change after you read this book, it'll be your view on this guy. Lisa Jensen portrayed him in a different light. We're shown a softer side of him–the side that cares about the past lives of his crew members; the side that can't seem to stop thinking about all the what ifs.
Alias Hook gives us a whimsical, romantic take on the story of Captain Hook. Magic was everywhere, and so were regret, confusion, love, and all these feelings that're new to Hook. It was absolutely fantastic to see his view of the world change, all because of this girl that magically plunked into Neverland uninvited.
Hook and the mortal woman Stella were adorable together. Okay, fine, the romantic pacing wasn't as clean as it could've been. There was this one part where I went, HOLD YOUR HORSES–SLOW THE FUCK DOWN! but after that, it was smooth sailing and I was grinning at their cute and awkward interactions.
The story itself was incredibly fascinating–we're given a chance to view Neverland from another perspective, aside from JM Barrie's. The mermaids were different; Peter Pan himself was very different; everything was new and shiny! It was slow at first, when we were just getting to know Hook, but around the halfway mark I found myself flipping page after page, wanting to get more and more substance from the book.
Another little qualm I had was the writing. Lisa Jensen's prose isn't bad–in fact, it's totally eloquent and elegant… which is just not my kind of thing, personally. I guess you could say I'm a shallow reader, and there were a lot of times where I had to go back a few pages to remind myself of what was happening. I'm not sure if the writing's really hard to get into, or I just have a really short attention span.
Overall, I would still recommend Alias Hook to anyone looking for a different take on Hook's story–one with a swashbuckling hero, a fierce maiden, and lots of magic. That's you, by the way.
About Aimee
Aimee loves being a little bookworm (okay–she doesn't like being little). She also loves chocolates and sweets but is freaked out by the thought of possibly getting diabetes.