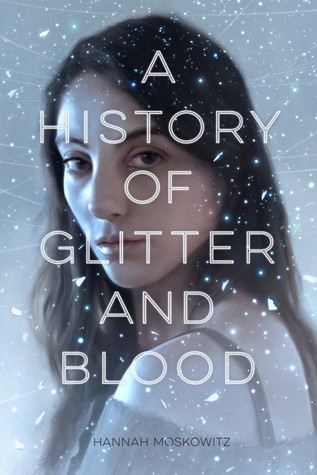 A History of Glitter and Blood


by Hannah Moskowitz
published on August 18th 2015 by Chronicle Books
young adult | fantasy | romance | LGBTQ
find the book on
Goodreads
Sixteen-year-old Beckan and her friends are the only fairies brave enough to stay in Ferrum when war breaks out. Now there is tension between the immortal fairies, the subterranean gnomes, and the mysterious tightropers who arrived to liberate the fairies.
But when Beckan's clan is forced to venture into the gnome underworld to survive, they find themselves tentatively forming unlikely friendships and making sacrifices they couldn't have imagined. As danger mounts, Beckan finds herself caught between her loyalty to her friends, her desire for peace, and a love she never expected.
I received a free digital copy of this book in advance from Chronicle Books. This did not affect my review in any way.
I have never read any book like this one before–it was weird, it was odd, it was different.
This is my first Hannah Moskowitz book, and I am definitely going to be hunting down her books at our local bookstores so I can devour them as I did with this fabulous piece.
If there's one thing I can promise you, it's this: A History of Glitter and Blood is one big mess. Now "mess" in regards to this book can mean two things: a) a legitimately annoying, confusing mess, or b) a beautiful mess–luckily for me, I thought it was a fucking gorgeous, brilliant mess.
Okay, you're probably wondering how that sentence could possibly make any sense. Well, it does, I swear!
This book was written with a more… cluttered writing style, as opposed to lyrical writing. And fuck yeah did I love it! It went really well with the unreliable narrator's voice and made the story seem even more authentic.
The story itself had a mix of everything–romance, politics, drama, mystery–and each aspect was balanced out really well. None of them were boring or less interesting than the other.
And the characters! That aspect was amazing as well. This book featured a load of unique paranormal creatures–fairies (who can live with missing body parts and shed glitter), gnomes (who eat fairies–whoops!), tightropers, backpackers, nymphs–they were all incredibly badass and also very fascinating.
The relationships between the characters were… unique, to put it simply. There was just so much intimacy between everyone–and yeah, everyone pretty much had sex with everyone at some point in the book. (The main couple, though? I SHIP THEM SO HARD.) There was prostitution, too, which was handled in a… questionable but interesting way.
Overall, I highly recommend this book to anyone looking for something different, and isn't afraid of a little a lot of a shit ton of weirdness.
About Aimee
Aimee loves being a little bookworm (okay–she doesn't like being little). She also loves chocolates and sweets but is freaked out by the thought of possibly getting diabetes.