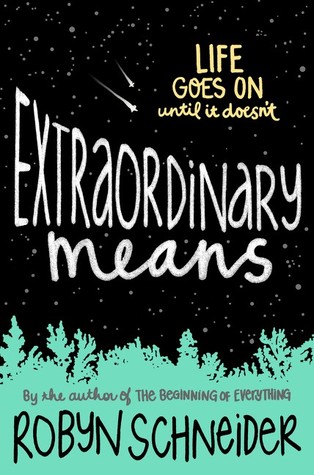 Extraordinary Means


by Robyn Schneider
published on May 26th 2015 by Katherine Tegen Books
young adult | contemporary | romance
find the book on
Goodreads
At seventeen, overachieving Lane finds himself at Latham House, a sanatorium for teens suffering from an incurable strain of tuberculosis. Part hospital and part boarding school, Latham is a place of endless rules and confusing rituals, where it's easier to fail breakfast than it is to flunk French.
There, Lane encounters a girl he knew years ago. Instead of the shy loner he remembers, Sadie has transformed. At Latham, she is sarcastic, fearless, and utterly compelling. Her friends, a group of eccentric troublemakers, fascinate Lane, who has never stepped out of bounds his whole life. And as he gradually becomes one of them, Sadie shows him their secrets: how to steal internet, how to sneak into town, and how to disable the med sensors they must wear at all times.
But there are consequences to having secrets, particularly at Latham House. And as Lane and Sadie begin to fall in love and their group begins to fall sicker, their insular world threatens to come crashing down.
There's a difference between being dead and dying. We're all dying. Some of us die for ninety years, and some of us die for nineteen. But each morning everyone on this planet wakes up one day closer to their death. Everyone. So living and dying are actually different words for the same thing, if you think about it.
A year ago, thanks to The Fault in Our Stars, a huge contemporary craze began in the world of young adult literature. Extraordinary Means continues that craze. Unfortunately, even though it was entertaining and decently written, I didn't feel that it added anything significant to this fad that hasn't already been written about.
Lane is on the path to fulfilling his dream of being accepted to an Ivy League school when suddenly everything comes crashing down on him. He is diagnosed with a rare and incurable form of tuberculosis, and is sent away to a boarding school / hospital called Latham House.
Little does he expect that being diagnosed with a potentially fatal disease will be the reason he falls in love and learns what it's like to really live.
Lane is perfect on paper – he never goes against the rules; always does his homework; is on track for becoming his class' Valedictorian. You can see how being diagnosed with a possibly fatal disease tears him apart; and no doubt it will break you just as much as it does him. The character development he goes through and the lessons he learns are invaluable and wonderfully written.
While at Latham House, Lane ends up falling in love with spunky and free-spirited Sadie. While their romance was well-written enough to keep me personally invested, it didn't do much beyond that. I didn't feel any sparks or extreme chemistry between them. It was just simply…there.
Certainly not a bad read; but it didn't have anything that stood out to me or enough substance to me clap, gasp, or cry. I'd still recommend it however – especially to readers who like John Green's books.
About Zoe
Zoe is a critical reviewer. When she's not reviewing, you can find her performing in plays / musicals, doing gymnastics, or designing websites.