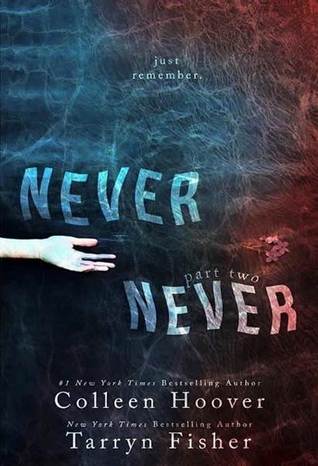 Never Never: Part Two


by Colleen Hoover and Tarryn Fisher
Never Never, #2
published on May 17th 2015
new adult | romance | mystery
find the book on
Goodreads
Silas races against time as more truths unravel, while others twist tighter together. And now, the stakes are higher as Silas' control slips and others begin to point fingers. Charlie is in trouble and he must be the one to bridge the chasm between their past and their present. Because somewhere between I love yous and Never Nevers and Never Agains, a truth they can't imagine, beckons to be found.
Never Never: Part One was have pointless but very readable. Never Never: Part Two? Pointless, predictable and boring. Completely superfluous.
One of the main things I liked in the first part was the (unexplained) spark between Charlie and Silas. See, they were separated for most part of this book, so it definitely lost a big part of its appeal. There wasn't anything to anchor my interest in the book anymore.
What I generally don't like about Never Never being a serial is that both parts one and two had hardly any revelations or even hints at revelations. There could have been a couple of small reveals here and there instead of squishing everything into part three, but no.
Because of this, I really felt like this book lacked a purpose. There were a few important things here to bridge parts one and two, but they only frustrated me because a shit ton of scenes in this book were just repeats of scenes in the first book and could've just been cut off or changed.
The ending? Flat. And exactly the same as the ending of the first.
…
About Aimee
Aimee loves being a little bookworm (okay–she doesn't like being little). She also loves chocolates and sweets but is freaked out by the thought of possibly getting diabetes.