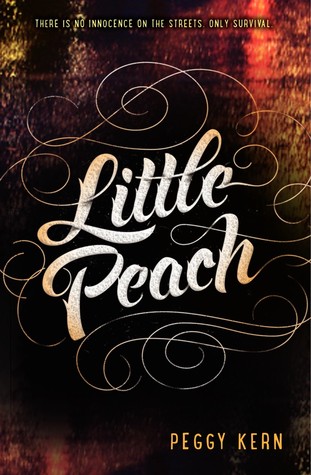 Little Peach


by Peggy Kern
published on March 10th 2015 by Balzer & Bray
young adult | contemporary | abuse
find the book on
Goodreads
When Michelle runs away from her drug-addicted mother, she has just enough money to make it to New York City, where she hopes to move in with a friend. But once she arrives at the bustling Port Authority, she is confronted with the terrifying truth: she is alone and out of options.
Then she meets Devon, a good-looking, well-dressed guy who emerges from the crowd armed with a kind smile, a place for her to stay, and eyes that seem to understand exactly how she feels.
But Devon is not what he seems to be, and soon Michelle finds herself engulfed in the world of child prostitution where he becomes her "Daddy" and she his "Little Peach." It is a world of impossible choices, where the line between love and abuse, captor and savior, is blurred beyond recognition.
This is the only book I've ever wanted to put down because it was getting a bit too dark for my poor little heart. Not in a bad way! I was just so affected by the story that I felt like I couldn't take it if the main character felt any more pain. At one point I was thinking, Nononono! because I. Don't. Want. Any. More. Suffering.
Whether or not you're a sensitive reader (like me), you're going to want to read this book. It tells such an honest story about the dangers that a teenager (or really, anyone in general) could come across, even when they're least expecting it.
Michelle, our main character, suddenly finds herself involved in the dark world of prostitution after some horrible shit happens to her life. While I did sympathize with her, I didn't empathize with her. Get this: she's fourteen, and I'm fifteen. That's a just one year age difference, and I expected to be able to really put myself into her shoes. I couldn't–her voice sounded too plain and simple, but not in the casual, easy-to-read way.
I just found her narration to be a bit… dull in general. More often than not, it felt like someone was telling me the story, rather than me being inside the story. I'm not sure if this is an instance of it's not [the book], it's me, but either way, I couldn't immerse myself in it fully.
BUT DON'T PUT OFF READING THIS BOOK. This was my first read about child prostitution, and it gave me more than one perspective on the topic. You'll realize a lot of things about this dark lifestyle, and, hopefully, it'll make you more aware about what's really out there for you if you aren't being careful.
…
About Aimee
Aimee loves being a little bookworm (okay–she doesn't like being little). She also loves chocolates and sweets but is freaked out by the thought of possibly getting diabetes.