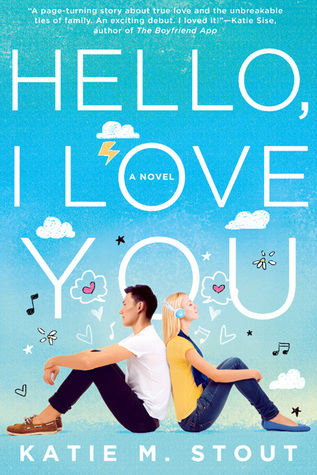 Hello, I Love You by Katie M. Stout
published on June 9th 2015 by St. Martin's Griffin
young adult | contemporary | romance
find the book on
Goodreads
Grace Wilde is running—from the multi-million dollar mansion her record producer father bought, the famous older brother who's topped the country music charts five years in a row, and the mother who blames her for her brother's breakdown. Grace escapes to the farthest place from home she can think of, a boarding school in Korea, hoping for a fresh start.
She wants nothing to do with music, but when her roommate Sophie's twin brother Jason turns out to be the newest Korean pop music superstar, Grace is thrust back into the world of fame. She can't stand Jason, whose celebrity status is only outmatched by his oversized ego, but they form a tenuous alliance for the sake of her friendship with Sophie. As the months go by and Grace adjusts to her new life in Korea, even she can't deny the sparks flying between her and the KPOP idol.
Soon, Grace realizes that her feelings for Jason threaten her promise to herself that she'll leave behind the music industry that destroyed her family. But can Grace ignore her attraction to Jason and her undeniable pull of the music she was born to write? Sweet, fun, and romantic, this young adult novel explores what it means to experience first love and discover who you really are in the process.
*I received a digital review copy for free from the publisher in exchange for an honest review. All opinions are my own.*
Thank you to St. Martin's Griffin for providing me with an advanced copy for review.
Fair warning: The word "fuck" and other variations will be used constantly in this review. It's necessary, thank you.
I have never, in my entire reading career (humor me, okay?), wanted to reach into a book to strangle a main character as much as I wanted to with this one. Considering my angry girl personality, that's really saying something.
Grace stood out. In the worst fucking way possible. 
So for example, you want to leave your country to attend school elsewhere. Obviously, if you're a normal person, you'd do lots of research before heading there, right? Well, HA. Grace isn't normal. She decides to fly to a boarding school in Korea because it's the first result that popped up in a Google search.
Grace is basically a walking disaster. I'm not even exaggerating anymore. She's:
a.) A fucking hypocrite. If there's anything I hate more than a weak heroine, it's a hypocrite. I've had my fair share of dealing with these people in real life, so I don't want to read about it in books any more, thanks.
b.) A fucking elitist. Okay, so I'm an Asian, and the way Grace looked down on Koreans was really idiotic, childish and unfair. She knew NOTHING about Korea or its culture, and therefore shouldn't be prancing around judging them for every little thing. (Khanh talks more about this aspect in her review.)
c.) A fucking rude snob. I guess she never learned the terms respect and manners back when she was a kid. Also, apparently Koreans don't listen to "normal" music. *snorts*
Now that I finally got that off my chest, let's talk about something else. Ah, the romance. This was another huge disappointment, mind you. I did not get the appeal of Jason AT ALL. Both he and Grace were incredibly hot-and-cold towards each other and they made me want to rip my hair off in frustration! There was ZERO chemistry between them. Plus there's an incredibly unnecessary (a minor one, but unnecessary nonetheless) love triangle… Ick.
None of the characters appealed to me. They were all annoying as fuck, really. You know those extremely preppy and bouncy characters who seem fake? Yeah, we have one of those characters here. Also the "quiet guy" and the guy who listens but is never given a chance by the heroine… Stereotypes. Annoying stereotypes.
Also, if you're going into this book looking to learn more about Korea or K-Pop… Move along elsewhere, because this book will not tell you anything you didn't already know. Neither of the two was explored with any sort of depth and was sort of just there for the sake of it.
In fact, if it wasn't explicitly stated that this book was taking place in Korea, you can pretty much put any country in the "____ Boarding School" title.
And did this book even have ANY K-Pop? Sure, the boys were part of a K-Pop band, but were they ever singing or composing songs with Korean lyrics? Hell no. I forgot that this book was supposed to even have K-Pop in it.
If you're looking for something diverse, this isn't it. Grace is in Korea, but she basically only talks to people who speak English. She complains constantly about no one wanting to talk to her, but she doesn't even bother approaching them, basically turning this book into your typical YA contemporary drama.
I wouldn't recommend this to anyone looking to get immersed in the Korean culture, or someone who's interested in a heroine's journey to discover Korean music and romance. Although if you're a brave soul and feel like this book might be for you… Be my guest.
…
About Aimee

Aimee loves being a little bookworm (okay–she doesn't like being
little
). She also loves chocolates and sweets but is freaked out by the thought of possibly getting diabetes.
Goodreads
 |
Twitter
 |
Instagram
|
Tumblr
| 
all of Aimee's posts →