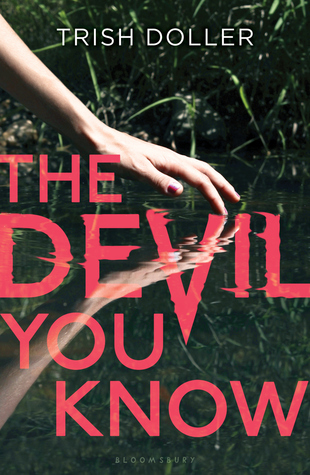 The Devil You Know by Trish Doller
published on June 2nd 2015 by Bloomsbury
young adult | contemporary | thriller | mystery | romance
find the book on
Goodreads
Eighteen-year-old Arcadia wants adventure. Living in a tiny Florida town with her dad and four-year-old brother, Cadie spends most of her time working, going to school, and taking care of her family. So when she meets two handsome cousins at a campfire party, she finally has a chance for fun. They invite her and friend to join them on a road trip, and it's just the risk she's been craving-the opportunity to escape. But what starts out as a fun, sexy journey quickly becomes dangerous when she discovers that one of them is not at all who he claims to be. One of them has deadly intentions.
*I received a digital review copy for free from the publisher in exchange for an honest review. All opinions are my own.*
Thank you to Bloomsbury Childrens for providing me with an advanced copy for review.
Adventure? A fun, sexy journey? Murder? Hell yes this book has it all! Unfortunately, I wouldn't go as far as to call it a favorite of mine. It was a quick, easy to read thriller, but it wasn't as intense as I wouldn've hoped. Hold on, let me explain.
This book was fun. We have a heroine who set out to do fun teenage things. She might not be the brightest crayon in the box in terms of wise decision-making, but she felt like a genuine character most of the time, so I'm gong to forgive her for being an idiot and potentially getting herself murdered.
While this book owned the fun parts, I can't really say the same for the actual mystery and thriller aspect. We only have three main characters, so you're going to suspect them all at one point. That being said, I was't shocked at all when the twist finally came around. It's the kind of twist that'll make you go, Ha! I knew it!
But I wouldn't let that get in the way of your decision to read this book. Trish Doller's writing was so incredibly easy to read, and I just found myself flipping page after page.
The characters were definitely NOT perfect (like I said, Cadie's not really a genius), but I enjoyed reading about them. Everyone has a great backstory that you'll sympathize with, even the "villain" (if you can call him/her–no spoilers–that).
This book was also pretty sex-positive, which I'll always appreciate in a book. I won't really say that I was sold on the romance (hint: I wasn't–neither love interest caught my attention, to my eternal dismay), but at least there was that.
The ending was really satisfying as well. Not amazing or mind-blowing, but satisfying. It's the kind of ending that'll make you sigh contentedly.
Overall, I would recommend this to anyone looking for a quick thriller read. I wouldn't put Trish Doller in the ranks of thriller writers Abigail Haas just yet, but she definitely has the potential to get there someday.
…
About Aimee

Aimee loves being a little bookworm (okay–she doesn't like being
little
). She also loves chocolates and sweets but is freaked out by the thought of possibly getting diabetes.
Goodreads | Twitter | Instagram | Tumblr | all of Aimee's posts →