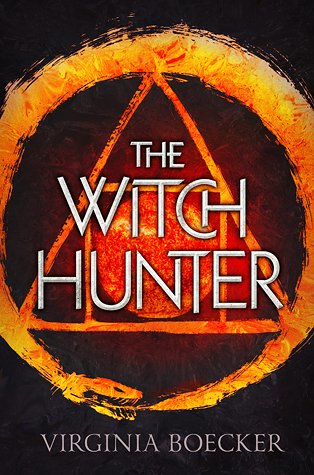 The Witch Hunter by Virginia Boecker
The Witch Hunter, #1
published on June 2nd 2015 by Little, Brown Books for Young Readers
young adult | fantasy | paranormal | historical | romance
find the book on
Goodreads
Your greatest enemy isn't what you fight, but what you fear.
Elizabeth Grey is one of the king's best witch hunters, devoted to rooting out witchcraft and doling out justice. But when she's accused of being a witch herself, Elizabeth is arrested and sentenced to burn at the stake.
Salvation comes from a man she thought was her enemy. Nicholas Perevil, the most powerful and dangerous wizard in the kingdom, offers her a deal: he will save her from execution if she can break the deadly curse that's been laid upon him.
But Nicholas and his followers know nothing of Elizabeth's witch hunting past–if they find out, the stake will be the least of her worries. And as she's thrust into the magical world of witches, ghosts, pirates, and one all-too-handsome healer, Elizabeth is forced to redefine her ideas of right and wrong, of friends and enemies, and of love and hate.
*I received a digital review copy for free from the publisher in exchange for an honest review. All opinions are my own.*
Thank you to Hachette UK for providing me with an advanced copy for review.
You know you're bored out of your mind reading a particular book if a) you fall asleep in the middle of a chapter, or b) you stop after every five minutes to get a new snack. Unfortunately, both of these were things I ended up doing while reading The Witch Hunter.
I was really surprised by my own reaction to this book. The synopsis promised intrigue, action and a swoon-worthy romance–basically everything I look for in a good fantasy book. Sadly, this book fell short on all accounts.
Most likely, the issue lies with our incredibly flat, boring and annoying main character Elizabeth. This girl has such a weak and barely-there personality. She doesn't fight for anything and basically just lets people push her around and tell her what to do. Her beliefs (if you can even call them that) aren't strong and have no reason behind them.
Her constant pining for Asshole Love Interest and Boring Love Interest (yep–there are two! Whoop-dee-doo) took up almost the whole book. To put it simply, Elizabeth has been in love with Asshole ever since they were kids. You're never really sure about this love interest until at least halfway through the book. And then when a certain something happens to Asshole, Boring comes along to sweep her off her feet. Not me though. I ain't falling for that cheap trick!
Other than Elizabeth, all the other characters were just stereotypical and equally as flat as she was. We have the funny guy (who was, quite frankly, getting on my nerves), the mean-girl-that-is-not-actually-a-bitch, the sweet but lifeless love interest, etc. No one really stood out for me. I honestly can't even remember their names.
The writing was also just okay. It felt a little more modern rather than historical which disappointed me a little. The sentences were choppy, if you're into that kind of thing.
This book has a plot. It does! It's a plot that could makes sense and it's a plot that could be amazing if it was explored fully. Which is why I was terribly disappointed when I finished the book and realized that nothing in this book was talked about to its fullest extent. Nothing was explained. There was more telling than showing. Also, rape was used as a plot device and then was brushed over as if it was nothing.
And twists… What are twists?! This book didn't have them, at least for me. I felt like everything that was supposed to be a twist could've been seen from miles away if you were paying any attention to the book at all. Nothing really surprised me enough for me to deem it a "twist."
Overall, I'm not really sure if The Witch Hunter is a book I'd recommend. I think if you're okay with fantasies that aren't really unique and follow the standard plot formula, then you'll probably find yourself enjoying this more than I did.
book edition: eARC
photo © Aimee (Deadly Darlings)
[drag photo to a new tab for a bigger view]
PURCHASE THE WITCH HUNTER
Hardcover | Paperback
…
About Aimee

Aimee loves being a little bookworm (okay–she doesn't like being
little
). She also loves chocolates and sweets but is freaked out by the thought of possibly getting diabetes.
Goodreads | Twitter | Instagram | Tumblr | all of Aimee's posts →