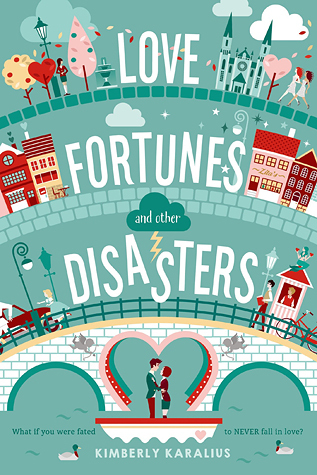 Love Fortunes and Other Disasters by Kimberly Karalius
published on May 12th 2015 by Swoon Reads
young adult | contemporary | romance | magical realism
find the book on
Goodreads
Love is real in the town of Grimbaud, and Fallon Dupree has dreamed of attending high school there for years. After all, generations of Duprees have successfully followed the (100% accurate!) love fortunes from Zita's famous Love Charms Shop to happily marry their high school sweethearts. It's a tradition. So she is both stunned and devastated when her fortune states that she will NEVER find love.
Fortunately, Fallon isn't the only student with a terrible love fortune, and a rebellion is brewing. Fallon is determined to take control of her own fate—even if it means working with a notorious heartbreaker like Sebastian.
Will Fallon and Sebastian be able to overthrow Zita's tyranny and fall in love?
s-
If I was asked to describe this book in one word, my immediate answer would be cute. Love Fortunes and Other Disasters just exploded with cute. It was cuteness overload.
Despite being written in third person POV, I found it easy to sympathize and empathize with Fallon. She may seem a bit juvenile and childish at first, but as the story progressed, her determination and faith shone. And after a few chapters, she didn't seem too immature anymore.
This book was actually whimsical and dabbled a lot in magical realism, which I wasn't expecting. Some scenes and details were kind of ridiculous and incredibly unbelievable, especially as you reach the end. This might be something that most readers will frown upon like I did, but once I got past that, the book was really enjoyable as a whole.
I was incredibly surprised with how much I liked how the main romance developed. Sebastian was actually one of those guys who liked to date casually, and I appreciated how he didn't make up any excuses and he wasn't sorry for his past. He had a legitimate reason–he wanted to date–and he didn't need to suck up to Fallon to apologize for something that he didn't do wrong.
The romance itself was adorable to watch as it developed. Fallon and Sebastian weren't really the best of friends at first, and then Fallon suddenly develops a crush on Sebastian, which I thought was really cute.
But see, this book wasn't just about these two. We also have romantic interests for Fallon's best friends, Anais and Nico. I liked the romance with Anais and her love interest–it was cute. Nico's romance, on the other hand, made me roll my eyes and want to rip his hair out. His character in general is really weak and immature.
The friendship in this book was also lovely. Everyone supported everyone, and they were willing to go through extreme lengths to help one another.
Overall, if you're okay with extremely unrealistic plots and are looking for a light, whimsical and cute read, I'd totally recommend you to give Love Fortunes and Other Disasters a shot.
book edition: paperback
photos © Aimee (Deadly Darlings)
[drag photos to a new tab for a bigger view]
PURCHASE LOVE FORTUNES AND OTHER DISASTERS
Paperback
…
About Aimee

Aimee loves being a little bookworm (okay–she doesn't like being
little
). She also loves chocolates and sweets but is freaked out by the thought of possibly getting diabetes.
Goodreads | Twitter | Instagram | Tumblr | all of Aimee's posts →