Hi guys! Welcome to my stop in the Hold Me Like a Breath Tour! Check out this excerpt I have, and let me know if the book sounds interesting to you guys. Also, there's a fabulous giveaway ahead!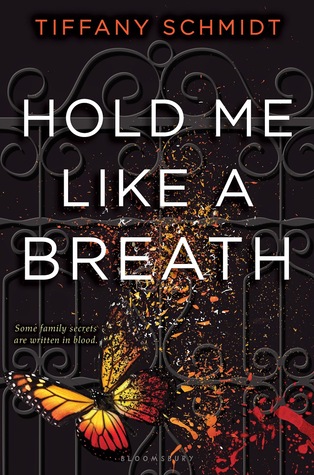 Penelope Landlow has grown up with the knowledge that almost anything can be bought or sold—including body parts. She's the daughter of one of the three crime families that control the black market for organ transplants.
Penelope's surrounded by all the suffocating privilege and protection her family can provide, but they can't protect her from the autoimmune disorder that causes her to bruise so easily.
And in her family's line of work no one can be safe forever.
All Penelope has ever wanted is freedom and independence. But when she's caught in the crossfire as rival families scramble for prominence, she learns that her wishes come with casualties, that betrayal hurts worse than bruises, that love is a risk worth taking . . . and maybe she's not as fragile as everyone thinks.
But in my daydreams, Garrett hadn't been wearing a gun.

And now we were parked somewhere made of shadows and secrets and fear that sat on my tongue like a bitter hard candy that wouldn't dissolve.

The car still smelled like them. Their seats were still warm when I leaned forward and pressed my hands against the leather. But I couldn't see them. What if the dark decided never to spit them back out again?

This wasn't the Business as I knew it: secret transplant surgeries that took place at our six "Bed and Breakfasts" and "Spas" in Connecticut, Vermont, Maryland, Maine, Massachusetts, and South Carolina, where we saved people like Kelly Forman. She'd been ten when she needed a kidney transplant, but her chromosomal mutation—unrelated to her renal impairment—earned her a rejection from the Federal Organ and Tissue Agency's lists. According to them, Down syndrome made her a "poor medical investment." FOTA wrote her a death warrant. We saved her life.

She graduated from high school a few weeks ago. The past nine years since we'd met—she wouldn't have had those without the Family Business.

That was enough. That was all I needed to know. Illegal or not, that was good.

I heard something. A crack so sharp it echoed and seemed to fill the spaces between my bones, making me shiver. I prayed it was a car backfiring.

Then it happened again.
Tiffany Schmidt lives in Pennsylvania with her saintly husband, impish twin boys, and a pair of mischievous puggles. She's not at all superstitious… at least that's what she tells herself every Friday the thirteenth.
SEND ME A SIGN is her first novel. BRIGHT BEFORE SUNRISE will follow in Winter, 2014. The ONCE UPON A CRIME FAMILY series begins with HOLD ME LIKE A BREATH in 2015. You can find out more about her and her books at: TiffanySchmidt.com, TiffanySchmidtWrites.Tumblr.com or by following her on Twitter @TiffanySchmidt.
This giveaway is open to readers from the United States only, or have a shipping address in the United States. Sorry, international readers! Here's what you can win:
one (1) winner gets a finished copy of Hold Me Like a Breath!
*Full giveaway terms can be found on the Rafflecopter.
Do you plan to read this book? Are you feeling lucky for the giveaway?
About Aimee
Aimee loves being a little bookworm (okay–she doesn't like being little). She also loves chocolates and sweets but is freaked out by the thought of possibly getting diabetes.