Hi guys! I'm so excited to be part of the 5 to 1 blog tour, since I absolutely loved this book myself! I hope y'all end up reading and loving it! Thanks for Hannah @ The Irish Banana Review for hosting!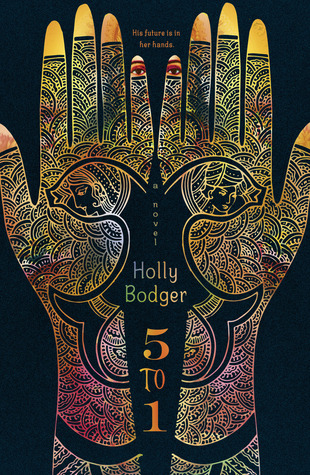 Sudasa doesn't want to be a wife and Kiran, a boy forced to compete in the test to become her husband, has other plans as well. Sudasa's family wants nothing more than for their daughter to do the right thing and pick a husband who will keep her comfortable–and caged. Kiran's family wants him to escape by failing the tests. As the tests advance, each thwarts the other until they slowly realize that they might want the same thing.
5 Signs to Know That You Will Love 5 to 1
1.) You love unique yet realistic dystopians. It's one of those stories that are just so plausible–it's one of those books that will make you fear the future. And it's fantastic.
2.) You love reading in verse… or not. It honestly doesn't matter if you're a prose or verse fan. This is my first book half-written in verse and I loved it!
3.) You want to meet a main characters with strong beliefs. Both Sudasa and Kiran are such passionate people when it comes to what they think is right, and they certainly will fight hard for their beliefs.
4.) You love diverse books. Because this book is set in India. And you learn a lot about their culture.
5.) You are a human being and/or are not. Because really, anyone will love this book.
You can also check out my full review with Faye right here.
5 stars
HOLLY BODGER has a BA in English Literature and has spent her entire career in publishing. She is an active member of RWA and is a 2013 Golden Heart finalist in the Young Adult category. She lives in Ottawa, Canada.
This giveaway is open to readers from the US only–sorry, international friends!
three (3) winners will receive a finished copy of 5 to 1!
Have you read 5 to 1? If not, is it on your wishlist?
About Aimee
Aimee loves being a little bookworm (okay–she doesn't like being little). She also loves chocolates and sweets but is freaked out by the thought of possibly getting diabetes.