Hi guys! I'm really excited to be a part of the Philippine blog tour for A Court of Thorns and Roses! Thank you so much to Throne of Glass Philippines for the opportunity. *hugs*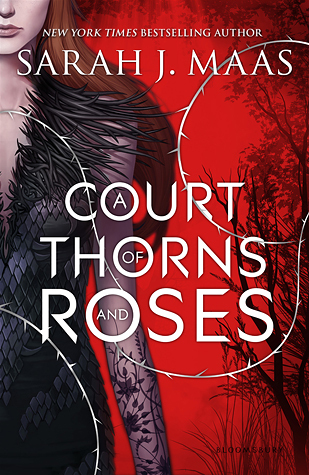 A thrilling, seductive new series from New York Timesbestselling author Sarah J. Maas, blending Beauty and the Beast with faerie lore.
When nineteen-year-old huntress Feyre kills a wolf in the woods, a beast-like creature arrives to demand retribution for it. Dragged to a treacherous magical land she only knows about from legends, Feyre discovers that her captor is not an animal, but Tamlin—one of the lethal, immortal faeries who once ruled their world.
As she dwells on his estate, her feelings for Tamlin transform from icy hostility into a fiery passion that burns through every lie and warning she's been told about the beautiful, dangerous world of the Fae. But an ancient, wicked shadow grows over the faerie lands, and Feyre must find a way to stop it . . . or doom Tamlin—and his world—forever.
Perfect for fans of Kristin Cashore and George R. R. Martin, this first book in a sexy and action-packed new series is impossible to put down!
5 Signs to Know That You Will Love A Court of Thorns and Roses
1.) You loved the Beast in the Beauty and the Beast Disney animation. Every single time I spotted something in the book that was even the tiniest bit reminiscent of the Disney movie, I would smile like an idiot and my mom or someone else would ask me if I was high.
2.) You enjoy cute moments… but also want to swoon at the sexy times. I never thought that my two favorite hero types (shy & sweet plus confident & sexy) could ever both be present in just one male. But Tamlin, you guys. Holy shit. Tamlin was sometimes adorable and I wanted to squish his face, and then he can be a total god in bed. My cheeks were flaming.
3.) You believe that you will always love your family, no matter what. Because Fayre was just the most amazing daughter and sister. Despite how crappy her family can be towards her, she did everything in her power to make sure that they were okay and tended to. And by the end of the book, I fell for both Fayre and her family.
4.) You love Sarah J. Maas' writing. Or even if you don't! Because writing-wise, I think this is Sarah's best yet. It was just so elegant and at the same time still easy to get into. You're going to be so immersed in this world and you wouldn't want to get out of it.
5.) Side characters that rock are totally your thing. AKA someone please pull out Lucien from the book so I can have him! And I know a lot of readers are going to adore Rhysand as well (even if I didn't).
2 Things That I Didn't Love About ACOTAR
1.) This book had a ton of cliches in it. Believe it or not, I often caught myself mumbling, "Typical," every now and then. I won't go into specifics so I wouldn't spoil you guys, but yeah. A lot of things were even similar to the Throne of Glass books.
2.) The potential love triangle made me cringe. This is actually one of the things I dislike about Throne of Glass as well, actually. It's like they're trying to make you think that there won't be a love triangle, but you can just tell that there's going to be one and it's just going to be forced and awkward. No spoilers though.
3.5 stars
Sarah lives in Bucks County, PA, and over the years, she has developed an unhealthy appreciation for Disney movies and bad pop music. She adores fairy tales and ballet, drinks too much tea, and watches an ungodly amount of TV. When she's not busy writing, she can be found exploring the historic and beautiful Pennsylvania countryside with her husband and canine companion.
This giveaway is open to readers from the Philippines only–sorry, international friends!
one (1) winner gets an A COURT OF THORNS AND ROSES prize pack, which includes a hardcover copy of ACOTAR plus swag!
What do you think of Sarah J. Maas transitioning to new adult? Have you read this/do you want to read it?
About Aimee
Aimee loves being a little bookworm (okay–she doesn't like being little). She also loves chocolates and sweets but is freaked out by the thought of possibly getting diabetes
.