Tour run by St. Martin's Press
Banner designed @ Deadly Darlings
Hi guys! I'm extremely stoked to be a part of the All the Rage blog tour! This was my first venture into Courtney Summers' work, and I'm super glad I gave this book a chance, because I ended up absolutely loving it!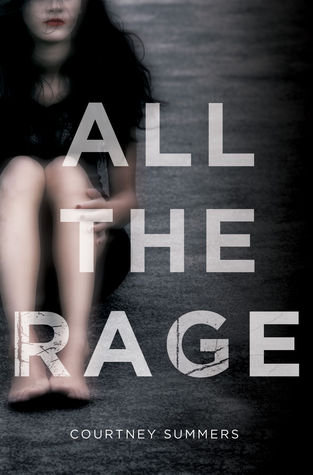 The sheriff's son, Kellan Turner, is not the golden boy everyone thinks he is, and Romy Grey knows that for a fact. Because no one wants to believe a girl from the wrong side of town, the truth about him has cost her everything-friends, family, and her community. Branded a liar and bullied relentlessly by a group of kids she used to hang out with, Romy's only refuge is the diner where she works outside of town. No one knows her name or her past there; she can finally be anonymous. But when a girl with ties to both Romy and Kellan goes missing after a party, and news of him assaulting another girl in a town close by gets out, Romy must decide whether she wants to fight or carry the burden of knowing more girls could get hurt if she doesn't speak up. Nobody believed her the first time-and they certainly won't now-but the cost of her silence might be more than she can bear.
With a shocking conclusion and writing that will absolutely knock you out, All the Rage examines the shame and silence inflicted upon young women in a culture that refuses to protect them.
Essential Items When Reading All the Rage:
1. One stress ball (two could work, but you'll need your other hand to flip pages. Duh.) – This book will make you so angry at how horrible some people can be. You'll want to scream, kick a brick, bite the head off a gummy bear… You get my point. The stress ball will help during these moments.
2. A box of tissues – I don't know about the next guy, but this book made me tear up. You'll cry because you're going to want the best for the main character, but maybe she doesn't always get it. Maybe she'll be broken, and so will you. Just maybe.
3. A couch with fluffy cushions and/or your bed – This is important for when you're done reading the book. You're going to need a good place to lie down and think about life and how much you loved this book. Trust me, it's essential.
All the Rage Preparation Checklist (AKA Fabulous Things to Be Excited about):
1. An admirable protagonist–check. Romy's been through (and is still going through) a lot of shit in her life, and she feels that she believes what the people say: that she'd be better off dead. Despite that, Romy kept moving on. She's such a broken girl, a mix of your favorite and most despised characters all in one, which is just the way I like it. You guys are going to root for this one, for sure.
2. An honest story–check. Sometimes people lie. But sometimes people tell the truth. And sometimes, people don't believe them. You're not going to love all of the characters in this book. In fact, you're going to loathe a lot of them, but for all the right reasons. You're going to hate people for being so close-minded and judgmental. You're going to hate them for not giving other people a chance.
3. A fabulous mystery–check. Not sure if you got the memo, but this book has murder in it too. Okay, maybe you'll see the twist coming once we get closer to the big reveal, but every page will keep you on your toes. YOU CAN'T TRUST ANYONE, OKAY?
4. A beautiful family–check. I just love Romy's parents! They're attentive to Romy, and they really do want what's best for her. Plus I totally love how her mom and step-dad are super cute together. (I'd totally read a spin-off about them. Courtney, I hope you can see my uncontrollable winking!)
5. A sweet romance–check. I was not expecting this to have a romance (you'll get why when–when, not if–you start this), but I was pleasantly surprised by it! Leon was such a fantastic love interest. He was sweet, caring, and best of all, really considerate of Romy's situation.
6. All the feels–check. Anger. Swoons. Depression. Joy. This book has it all, folks.
*The only reason I didn't give this book 5 stars was because I had trouble with the then vs. now parts. It was hard for me to tell (despite the chapters clearly stating them) which events were currently happening and which happened before.
So the gist of this review is that YOU NEED TO BUY THIS BOOK, AND YOU NEED TO BUY IT NOW. Or else I won't let you ride my magical pony.
4 stars
Courtney Summers lives and writes in Canada, where she divides most of her time between a camera, a piano and a word processing program. She is also the author of What Goes Around, This is Not a Test, Fall for Anything, Some Girls Are, Cracked Up to Be, and Please Remain Calm. 
This giveaway is open to US residents only–sorry, INTL readers!
1 physical copy of ALL THE RAGE
Are you interested in reading this book? Do you like books that deal with tough but timely issues?
About Aimee
Aimee loves being a little bookworm (okay–she doesn't like being little). She also loves chocolates and sweets but is freaked out by the thought of possibly getting diabetes.