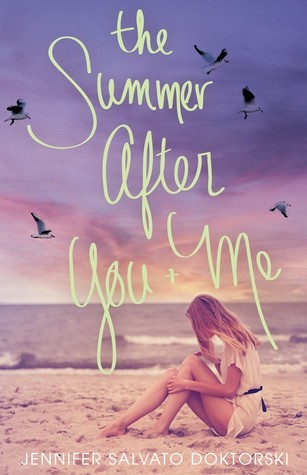 The Summer After You and Me by Jennifer Salvato Doktorski
published on May 1st 2015 by Sourcebooks Fire
young adult | contemporary | romance
find the book on
Goodreads
Sunbathing, surfing, eating funnel cake on the boardwalk—Lucy loves living on the Jersey Shore. For her, it's not just the perfect summer escape, it is home. And as a local girl, she knows not to get attached to the tourists. They breeze in over Memorial Day weekend, crowding the shore and stealing moonlit kisses, only to pack up their beach umbrellas and empty promises on Labor Day. Lucy wants more from love than a fleeting romance, even if that means keeping her distance from her summertime neighbor and crush, Connor.
Then Superstorm Sandy tears apart her barrier island, briefly bringing together a local girl like herself and a vacationer like Connor. Except nothing is the same in the wake of the storm. And day after day, week after week, Lucy is left to pick up the pieces of her broken heart and broken home. Now with Memorial Day approaching and Connor returning, will it be a summer of fresh starts or second chances?
s-
*I received a digital review copy for free from the publisher in exchange for an honest review. All opinions are my own.*
*Please note that everything in this review is from me. This is what I think would go down if Lucy was real and I got the chance to talk to her.
Ladies and gentlemen, today I'm here to interview the main character of The Summer After You And Me, Lucy! *insert applause and possibly some groaning here*
Me: How was your experience with Superstorm Sandy? I expect that you were devastated when you heard about it, and that you probably panicked like crazy, correct? I want me some good 'ole destruction.
Lucy: Pshaw. The storm was nothing. Sort of just like a breeze that passed by.
Me: *scratches head* Honestly, since it was a big part of your synopsis I wanted it to play a bigger role in your story. But hey, you're the protagonist. Okay then… Let's talk about something else. Tell me more about Connor. I hear he has a lot of "conquests." How do you feel about that?
Lucy: Connor is, like, so hot and attractive. Sure, I'm totes jealous of all the girls he's been with, but he always tells me that I'm the one for him. And I believe him! Duh.
Me: *whispers to the audience* This girl is a nut job. Someone get me out of here! *coughs and turns back to Lucy* Don't you think you're thinking about him a little too much? What about your boyfriend (who's an absolute sweetheart)? If you don't want him, I'll take him from you.
Lucy: I love my boyfriend! I won't cheat on him ever… but I can't stop thinking about Connor! What should I do?
Me: For the love of God, woman! Get a grip on yourself. Why not try to fix your family issues with your brother before thinking about getting it on with him, eh?
Lucy: Family?! But my brother Liam's always such a jackass to me. He never supports me and he always ignores me. He's such a shit.
Me:
Me: By the way, I totally agree that your brother's a shit. But the last 10% of your book was good. If only the entire book was that way. THIS IS ALL YOUR FAULT.
The gist of it is that this book had your typical girl-with-a-boyfriend-can't-get-over-her-sexy-crush storyline. Apparently, for Lucy, guy issues trump all family members and/or a storm that could potentially destroy her house. And this book gave me a migraine.
1.5 skulls
Sooo… Any plans of reading this book? Have you read it yourself?
…
About Aimee

Aimee loves being a little bookworm (okay–she doesn't like being
little
). She also loves chocolates and sweets but is freaked out by the thought of possibly getting diabetes.
Goodreads
 |
Twitter
 |
Instagram
| 
all of Aimee's posts →