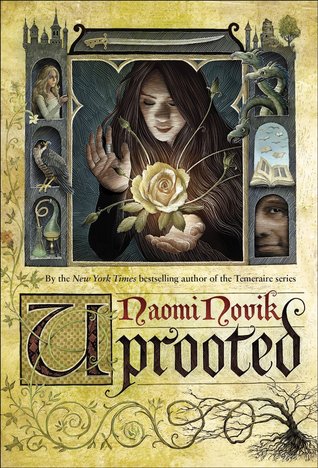 Uprooted by Naomi Novik
to be published on May 19th 2015 by Del Rey
young adult | fantasy
find the book on
Goodreads
Agnieszka loves her valley home, her quiet village, the forests and the bright shining river. But the corrupted Wood stands on the border, full of malevolent power, and its shadow lies over her life.
Her people rely on the cold, driven wizard known only as the Dragon to keep its powers at bay. But he demands a terrible price for his help: one young woman handed over to serve him for ten years, a fate almost as terrible as falling to the Wood.
The next choosing is fast approaching, and Agnieszka is afraid. She knows—everyone knows—that the Dragon will take Kasia: beautiful, graceful, brave Kasia, all the things Agnieszka isn't, and her dearest friend in the world. And there is no way to save her.
But Agnieszka fears the wrong things. For when the Dragon comes, it is not Kasia he will choose.
–
1. The art on the cover is epic. I'm loving the 3D look of the objects in the windows–the girl, the bird, the dragons–so gorgeous.
2. WIZARDS, Y'ALL. WIZARDS.
3. 5 out of 6 of my Goodreads friends who have already read this gave it five stars. And the other one was a four star rating. Come on, I trust these people!
4. Said Goodreads friends added this book to their fabulous shelves: "creeptastic" (creepy is so my thing) by Jessica, "fictional man of my dreams" (SO YAY THERE'S ROMANCE) by Cristina and "so good it hurts" (omg stop taunting me) by Tabitha.
Thoughts on my pick? What are you waiting on this week?
…
About Aimee
Aimee loves being a little bookworm (okay–she doesn't like being little). She also loves chocolates and sweets but is freaked out by the thought of possibly getting diabetes.