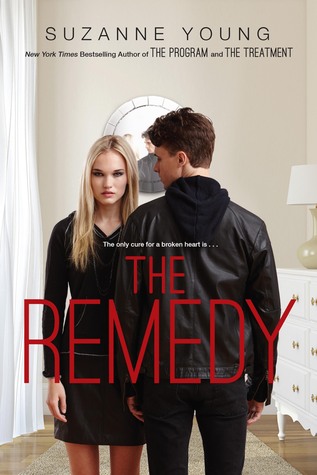 The Remedy by Suzanne Young
The Program, #0.5
published on April 21st 2015 by Simon Pulse
young adult | dystopia | contemporary | romance
find the book on
Goodreads
Quinlan McKee is a closer. Since the age of seven, Quinn has held the responsibility of providing closure to grieving families with a special skill—she can "become" anyone.
Recommended by grief counselors, Quinn is hired by families to take on the short-term role of a deceased loved one between the ages of fifteen and twenty. She's not an exact copy, of course, but she wears their clothes and changes her hair, studies them through pictures and videos, and soon, Quinn can act like them, smell like them, and be them for all intents and purposes. But to do her job successfully, she can't get attached.
Now seventeen, Quinn is deft at recreating herself, sometimes confusing her own past with those of the people she's portrayed. When she's given her longest assignment, playing the role of Catalina Barnes, Quinn begins to bond with the deceased girl's boyfriend. But that's only the beginning of the complications, especially when Quinn finds out the truth about Catalina's death. And the epidemic it could start.
s-
*I received a digital review copy for free from the publisher in exchange for an honest review. All opinions are my own.
"Grief can be contagious."
If you're looking for an emotionally-scarring, mind-jarring dystopian read, The Remedy is the book for you! With its intriguing plot, honest characters and heart-wrenching romance, surely you're going to want to read this.
Admittedly, there wasn't much going on in this novel as a whole. I believe that it's more of a build up for the sequel, The Epidemic. That being said, this book read more like a realistic fiction novel rather than a dystopian most of the time. But that's okay, since we all love realistic fiction.
But believe me, this story was not entirely useless. The crazy plot made up for the lack of action. See, Quinn is a closer. She poses as a dead person so that their loved ones can experience another day with them, to say sorry and whatever else they want to say. Creepy, right?
There's also some pretty awesome characterization here. Quinn is always conflicted and confused as hell–but shw wasn't always this way. Something's changing. *cue eerie music* Quinn's emotions are all over the place, and we totally feel what she feels. She feels want, need, desperation, love, jealousy, anger–and we feel all these things alongside her.
The romance in this book will make you go crazy. It's kind of a love triangle, but not really. No spoilers. There's Deacon, Quinn's ex
who's kind of moody like her. They have history, and they have chemistry. I love how he's the kind of guy who can never tell the girl no. On the other hand, we have Isaac, Quinn's assignment's boyfriend. He's sweet, but he's broken and grieving.
I also loved the amazing family in here. Quinn got really close to her assignment's family. She wasn't related to them at all, but they loved her and she cared about them. Even when people shunned her, they adored her and were infinitely thankful for her help.
Also, let's not forget the fucking crazy cliffhanger at the end of the book. I swear, you won't see it coming. Actually, there are *two* insane revelations in the end, and they will knock your socks off. So remove any socks you have before reading.
4 skulls
…
About Aimee

Aimee loves being a little bookworm (okay–she doesn't like being
little
). She also loves chocolates and sweets but is freaked out by the thought of possibly getting
diabetes
.
Goodreads
 |
Twitter
 |
Instagram
| 
all of Aimee's posts →