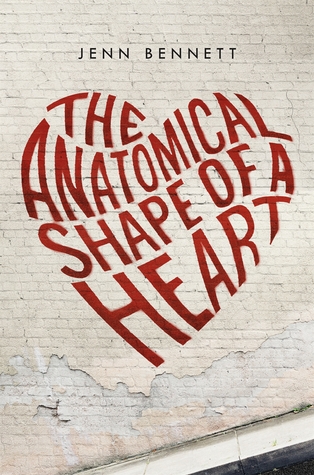 The Anatomical Shape of a Heart by Jenn Bennett
to be published on November 3rd 2015 by Feiwel & Friends
young adult | romance | contemporary
find the book on
Goodreads
A mysterious graffiti artist, an anatomy-obsessed artist, and a night bus that will bring the two together.
Artist Beatrix Adams knows exactly how she's spending the summer before her senior year. Determined to follow in Da Vinci's footsteps, she's ready to tackle the one thing that will give her an advantage in a museum-sponsored scholarship contest: drawing actual cadavers. But when she tries to sneak her way into the hospital's Willed Body program and misses the last metro train home, she meets a boy who turns her summer plans upside down.
Jack is charming, wildly attractive . . . and possibly one of San Francisco's most notorious graffiti artists. On midnight buses and city rooftops, Beatrix begins to see who Jack really is—and tries to uncover what he's hiding that leaves him so wounded. But will these secrets come back to haunt him? Or will the skeletons in Beatrix's own family's closet tear them apart?
–
1. LOOK IT, WORDS IN THE SHAPE OF A HEART. Y'all know that I'm a huge cover snob, and I am pleased with the simplicity and eye-catching style of this cover. I want to display it on my shelf.
2. "Jack is charming, wildly attractive…" Charming, you say? I am interested. Very interested. *uncontrollable winking*
3. The MC wants to follow Da Vinci's footsteps. I'm hoping for some amazing art, and a very determined and passionate heroine.
4. The early synopsis promised a steamy romance. A STEAMY ROMANCE.
5. Jenn Bennett is a popular adult author, and I've never read one of her works yet. I want to start with this since it's a bit more tame, and if I enjoy it, I'll check out her adult books.
What are you waiting on this week?
…
About Aimee
Aimee loves being a little bookworm (okay–she doesn't like being little). She also loves chocolates and sweets but is freaked out by the thought of possibly getting diabetes
.