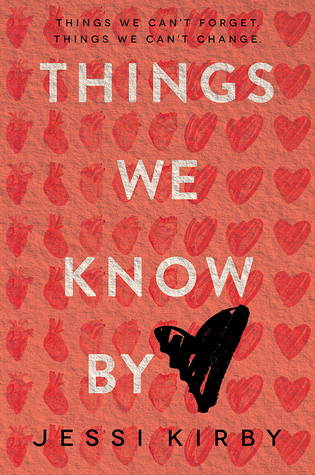 Things We Know by Heart by Jessi Kirby
published on April 21st 2015 by HarperTeen
young adult | romance | contamporary
find the book on
Goodreads
When Quinn Sullivan meets the recipient of her boyfriend's donated heart, the two form an unexpected connection.
After Quinn loses her boyfriend, Trent, in an accident their junior year, she reaches out to the recipients of his donated organs in hopes of picking up the pieces of her now-unrecognizable life. She hears back from some of them, but the person who received Trent's heart has remained silent. The essence of a person, she has always believed, is in the heart. If she finds Trent's, then maybe she can have peace once and for all.
Risking everything in order to finally lay her memories to rest, Quinn goes outside the system to track down nineteen-year-old Colton Thomas—a guy whose life has been forever changed by this priceless gift. But what starts as an accidental run-in quickly develops into more, sparking an undeniable attraction. She doesn't want to give in to it—especially since he has no idea how they're connected—but their time together has made Quinn feel alive again. No matter how hard she's falling for Colton, each beat of his heart reminds her of all she's lost…and all that remains at stake.
–

"There are many things in life that will catch your eye, but only a few will catch your heart. Pursue those." —Michael Nolan
The Things We Know By Heart was a beautiful and heartwarming read! It was all kinds of cute that you won't help but lose yourself in this amazing story.
So why just 3 stars, you ask? Well, basically this book was just so.. forgettable. For me, anyway. I kept looking for something that sets it apart from other contemporaries but to no avail. There was nothing extraordinary about it, nothing that impacted me so much. So that's why it's getting a 3-star rating. 3 stars = I LIKED IT
But enough of that. Just so you know guys, I ENJOYED reading this. Just not on an extreme level. Hmm now, I will talk about why I like this book. First off, this novel has an interesting premise. I mean, it's not everyday that I read about a girl tracking the person whose heart was from her dead boyfriend. I get why she needs to do that. She wants closure, of course.
I mean, how long was really an acceptable time to move on? Does it even have a specific time frame? We tell people in these situations to just move on and live a life and all that (well, I do this but maybe it's just me) but actually, we won't know what we'll do if we were in that position. So basically, I think this book had a realistic portrayal of a grieving process a young girl went through.
Another thing that I liked: the romance didn't feel forced at all. There was no instalove. I love these kind of slow burn romances in my books. These main characters have the cutest moments together that you can't help but ship them.
So there you go people. Even though this book didn't end up in my favorites list, I still recommend it for contemporary lovers in need of a cute and fluffy read.
P.S. Colton was really adorable. I was grinning like an idiot, you guys. :D
3 skulls
…
About Margarita
Margarita loves writing reviews to let out her feels and rants. She can be very shy but when you get to know her better, she's really a pretty outgoing person!